Hot Gists
Meet Woman With World's Longest Hair In 2013 At Length 14 Feet, Dai Yueqin (Pictures)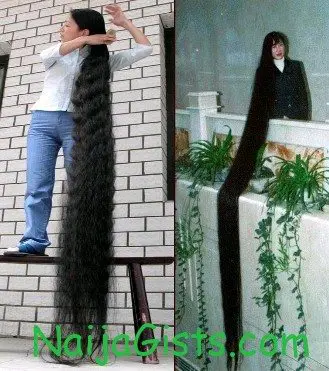 Jan 30, 2013 – Miss Dyq: Meet Woman With World's Longest Hair In 2013 At Length 14 Feet, Dai Yueqin (Pictures)

Meet Dai Yue Qin, the current Guinness world's record holder for World's longest hair in 2013. naijagists.com
Popularly called Miss Dyq, the beauty queen was born in April 1964 in China. Her bizarre hair growth pattern started at the age of 14.
Her thick long black shiny hair got the attention of everybody around her. She later worked at a carpet factory in Suzhou before relocating to her hometown where she worked at a popular hotel.
 As her hair-length of 3,30 meters raised more and more attraction she
joined several long hair competitions and has won prizes till now. In
2001 she moved to the U.S. where her friend lives. In 2005 she visited
her family and friends in China and again attended some contests and
long hair shows.
According to her, it takes around one to two hours to comb her hair tresses which are 420 cm in length now (almost 14 feet!). The washing part takes around 5 to 6 hours.
She is not complaining as a proud Guinness book of world's record holder.
See more photos of world's longest hair 2013 below.
Woman With World's Longest Hair 2013 Pictures