Hot Gists
'N5000 Note Is Here To Stay', Nigerians Are Wasting Their Time – CBN Governor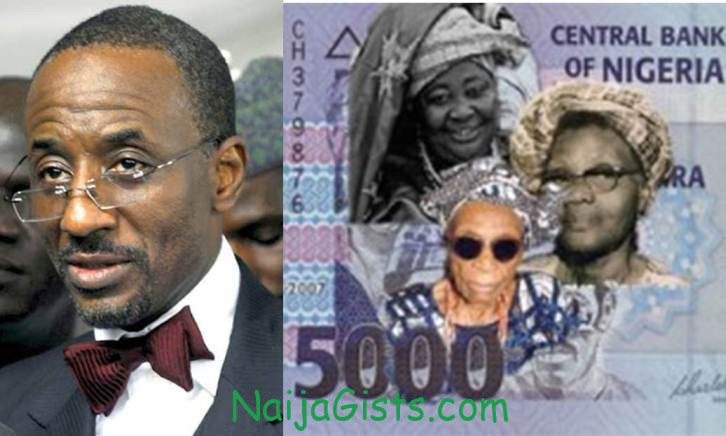 Sept 15, 2012 – N5000 Note Is Here To Stay: Nigerians Are Wasting Their Time – CBN Governor
The Central Bank Of Nigeria's Governor, Sanusi Lamido has opened up on his plan to continue with the introduction of the controversial 5000 naira bill despite rejection from the masses. naijagists.com
Here is what Sanusi Lamido said in a news briefing:
CBN Sanusi Lamido' Comments On 5000 Naira Bill
My job is to do my best in whatever circumstance I find myself.
I did not choose this time to be CBN governor.
If we have fiscal leakages and reserves are crashing and naira weakening I have to tighten naira supply. Interest rates go up everyone attacks SLS. But you can have low rates with high inflation, a weak naira and no reserve buffers.
You can't eat your cake and have it.
I am improving the efficiency of the banking system and currency operations.

Is it popular? I don't know and frankly don't care. I have a job to do and will do it.
The problem is that the CBN is the only institution doing anything. Roads are not being built.
We have no new airports
 No progress on new power plants.
No rail lines. So every time we do something all hell breaks loose.
Governance is not about seeking popularity.
The only thing that will stop this is a solid argument proving that the costs outweigh the benefits.
But when people start fabricating falsehood such as those claiming a bill of N40b for new notes they obviously are not interested in the nation or policy but have other targets.
And to cap it all he said:
If I am the target I wish them luck. But they are wasting their time. (Hope For Nigeria)
Sanusi Lamido is losing his cool na wa o!