Entertainment News
Nigerian Celebrities With Tattoos: Naija Entertainers Who're Tattoo Lovers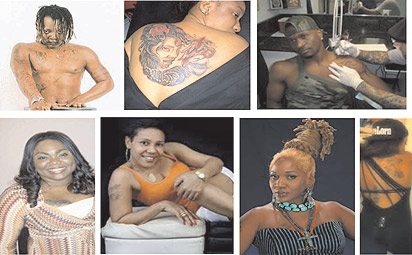 Nov 9, 2012- Nigerian Celebrities With Tattoos: Top Naija Entertainers Who're Tattoo Lovers
Check out top Nigerian celebrities who're tattoos lovers below. naijagists.com
RMD Wife, Jumobi Mofe Damijo' Butterfly Tattoo
The wife of Nollywood actor Richard Mofe Damijo, Mrs Jumobi Damijo was spotted last week with a butterfly Tattoo on her right boob.
Jumobi, a mother of 2 is leaving no stone unturned in keeping her actor husband.
Oge Okoye Tattoo
The beautiful Nigerian actress is a top tattoo freak with 2 stamped on her boobs and one on her left leg.
Tonto Dikeh' Tattoo
Nollywood actress Tonto Dikeh is the grandmother of anything Tattoo in Nigeria. She's got ink stamped all over her body with the latest addition of a big tattoo on her back.
Rukky Sanda' Tattoo
She is kinda new to the ink world. She recently revealed a big Tattoo stamped on her back.
Peter Okoye of P-Square' Tattoo
Peter Okoye is a top Tattoo freak in Nigeria. One of the twin of P-Square music duo has Tattoo stamped all over his body. His recent Tattoo with striking resemblance to that of American Rapper Rick Ross has been linked to the Illuminati.
Charly Boy' Tattoo
Charly Boy is a Tattoo addict with countless of stamps all over his body. His Tattoo has been rated as very unimpressive by most of his fans.
Lady Di' Tattoo
It's obvious she is trailing her husband's footsteps with her recent love for ink.
Actress Shan George Tattoo
Nollywood actress Shan George, a mother of 4 is the latest addition to the inkdom. The actress has several stamps on her body.
Kelly Hansome Tattoo
Another Nigerian musician who recently got a massive tattoo is Kelly hansome who claimed he got a tattoo for $4,000 during a visit to the US.