Entertainment News
Nigerian Comedian AY Apologizes To Dayo D1 Adeneye & Kenny Ogungbe Over Controversial Joke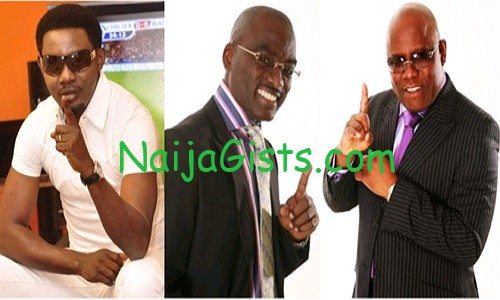 Oct 27, 2012 – Nigerian Comedian AY Apologizes To Dayo D1 Adeneye & Kenny Ogungbe Over Controversial Joke
The grandfather of Nigerian comedy industry, comedian Ayo Makun aka AY recently found himself in hot-soup after cracking an unintentional image-tarnishing joke about Dayo D1 Adeneye and Kenny Keke Ogungbe of Primetime Entertainment that didn't go down well with them. naijagists.com
The comic actor said "it was only a spontaneous exaggeration by a comedian who needed to just lie to the world and make a living from it'.
The comedian who said he meant no harm tendered his since apology via his Facebook page few days ago.
In his own words below:
AN OPEN LETTER TO KENNY AND D ONE OF KENNIS MUSIC BY COMEDIAN AY
Dear Sirs,
It is with deep sense of respect that I greet you. With profound esteem as well, we appreciate your invaluable roles in the growth of the Nigerian music industry in particular, and the entertainment industry in general. What the combination of your robust personalities means to most of us is nothing short of being a blessing to our generation as enviable mentors. My own respect is not just fraternal, but somewhat avuncular as well. You have been championing the business of entertainment with phenomenal contributions as veteran producers and all-encompassing showbiz personalities. Thus it wouldn't be out of place if something like a knock descends from on high, directly from the ancestors and lands on the head of any of us, your very junior colleagues for disrespecting the colossuses in the entertainment industry.
As a standup comedian I have come to discover that various sectors of the global entertainment industry are systematically tied together like a bunch of firewood. It is practically the case of a healthy rapport of mutual promotion. It is what has enhanced the meteoric upswing of the Nigerian entertainment industry. The story of the comedy industry, which I happen to be part of, is equally making headlines. And yet, not without some mutations in line with the spirit of our time. As a matter of fact, dynamism and creativity are attributes of the entertainment industry. Hence, the comedian has transcended the era of tortoise-squirrel tales, cock-and-bull story, narrative rambles, and redundant fart jokes. Comedy has beautifully developed into social commentary, what the public can exhilaratingly identify with without ado. Regrettably, the content of comedy in most cases has shifted from just anybody to celebrities. Today, the big enchiladas and the Mr Somebody have come to have a place in the comic chat. And it is simply a waste of time and words querying why it is so. Therefore, it doesn't sound bizarre to anybody anymore that the American president has been the focal point of many American comedians. While alive, Mark Twain and George Carlin never spared the American government. But the government spared them, digested the humour in what they were saying and left them in their clownish babbles. Actually comedians and clowns are brothers – nobody takes them seriously even though they habitually provoke serious laughter. Nevertheless, no comedic license to insult folks is intended.
Obviously, it is not just about the American president. With due respect, it must be stated that other highly influential parsonages across the globe are involved. More still, Her Majesty, the Queen and His Holiness, the Pope are not excluded from the humorous drama. What do they do? They only smile and overlook the facile act of the jester, or at best call on him to put more smiles on people's faces. We are indeed in a world of humour. Coming home, if OBJ had paid any serious attention to the flimsy rants of comedians about him, for sure, the king of comedy Alibaba and some of my colleagues would by now be staggering with castrated tongues or even conduced to the fate of extinct dinosaurs. To him we all pay homage for his paternal encouragement to the industry, but more for providing inexhaustible materials for our business to thrive. In the same vein, Tuface Idibia, Wande Coal, Dele Momodu, Weird MC, Segun Arinze, Chris Okotie, Don Jazzy, Banky W, Tonto Dikeh, D'Banj, Omobaba, Alibaba, the Jonathans and others deserves constant applause as well for having not drawn the sword of enmity against me and my colleagues. I am very sure that who ever is reading this piece can relate the above mentioned names to numerous jokes done by comedians. The truth of the matter is that only those revered by society enter into the contemporary comical repertoire. Please may all VIP's note this down.
In other to flee parochialism in this slim letter, let me quickly draw our attention to a relevant point from one of the fathers of African literature. Achebe writes: 'Some years ago at an international writers' meeting in Sweden, a Swedish writer and journalist said to a small group of us Africans present: "You fellows are lucky. Your governments put you in prison. Here in Sweden nobody pays any attention to us no matter what we write." We apologized profusely to him for his misfortune and our undeserved luck!' (Chinua Achebe, The Education of a British-Protected Child, London, Penguin, 2011, p. 121) If it were like this for intellectuals like Swedish writers and journalists, how would it be for the lame Swedish comedians? Definitely worse! It must be noted that this manner of apathy towards comedians is replicated across the civilized world. I guess the point should have been clear by now.
Dear Kennis Music, permit me to modestly state that it was an harmless joke that meant neither vilification nor slight when I said " we all saw an advert on television confirming that Kenny and D One were going to cover the Red Carpet at the last Grammy Awards in America for our viewing pleasure back home in Nigeria, Only for us to find the two of them interviewing their own artiste Jawon (around an American 3rd Mainland Bridge very far from the venue) without having access to the venue and foreign celebs at the event". That joke was only a spontaneous exaggeration by a comedian who needed to just lie to the world and make a living from it.The naivety and clumsiness in attacking you aside, you and I know very well that any attack on you by any comedian is as pointless as a wild-goose chase. However, my sincere apologies if I exaggerated in my jokes. Please no harm was intended. It was rather a confirmation of your significance to society. The several great artistes you created will witness better to this than my little self. Again, by 'agelessness' I intended the lasting glamour of your presence in the entertainment industry, and the future and perpetuity you stand for in the music enterprise. This is it; no equivocation was intended. Please forgive and forget.
Best regards.
Sincerely,
AY
Bros D1 and Keke biko make una accept his apology o.