Columns
Nigerian Policeman Reveals Why He Collects Bribe From Bus Drivers & Okada Riders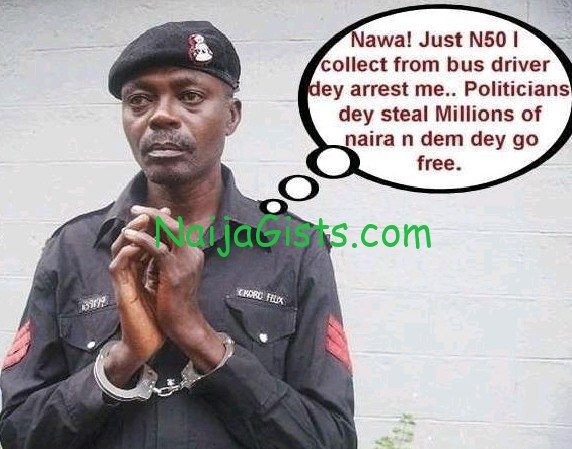 Dec 23, 2012 – Nigerian Policeman Reveals Why He Collects Bribe From Bus Drivers & Okada Riders
Here is an interesting article by columnist Funke Egbemode on the current issue facing Nigerian police officers daily and why they collect bribe from bus drivers and okada riders. naijagists.com
In this interview culled from Sunnews, Funke caught the police officer collecting N50 bribe from an Okada man who was caught riding his motorcycle on a wrong road.
Interview excerpt below:
It is the season to give and be considerate. It is that time of that year when we celebrate our successes and thank God for keeping us alive. But don't just get entertained by this piece. Take a thought for the policeman in Nigeria. Merry Christmas.
Me: Why were you hiding in that dark corner, with a gun? Anybody could have mistaken you for an armed robber or a kidnapper.
Cop: Are you calling a policeman in uniform thief?
Me: Not really…em…at least not yet. But the way you pounced on that okada man was suspicious.
Cop: Well the okada man was riding his bike on a road he wasn't supposed to be and I am a law enforcement agent.
Me: But I am worried about the way you took him to a corner and negotiated something…
Cop: You should be worried about what happens to people who can't keep their noses out of other peoples businesses.
Me: Are you threatening a reporter?
Cop: Sorry if I got you confused but that's how I issue warnings.
Me: Let me rephrase. Did you or did you not take that okada man into that corner to take money from him?
Cop: Are you a relative of the okada man or did he complain to you?
Me: I am a concerned Nigerian. I think I saw him give you N50 before you let him go.
Cop: Are you saying he was right to ride his commercial motorcycle on a banned route in Lagos? Are you saying I am not doing my duty according to the traffic laws of Lagos?
Me: I am saying you arrested that man, tried him, found him guilty, fined him and pocketed the fine, which is an offence.
Cop: Okay, sue me. And while you are speaking all that grammar, don't forget that I'm the one holding the gun.
Me: But why won't policemen stop harassing Nigerians for N50? It's embarrassing.
Cop: Good. You are allowed to be embarrassed on our behalf. But man must wack.
Me: What's that?
Cop: Policemen are first and foremost human beings before they are law enforcement agents. They are husbands and fathers with bills to pay like everybody else.
Me: Are you saying your salaries are not paid?
Cop: I am saying not only are policemen poorly paid, we are shabbily treated. Tell me what a cop with a wife and three children is supposed to do with N40,000 salary?
Me: That is why you take bribe?
Cop: Who said anything about bribe? Am I not supposed to send money to my old mother in the village for Christmas since I cannot travel because it is December and we have to keep crime rate down?
Me: So you ambush okada riders and 'obtain' them?
Cop: Is it from N40,000 that I will pay school fees in January? Have you been to a police barracks lately? Would you, a reporter, want to live in a police barrack?
Me: Then every poorly paid Nigerian worker should get a gun and ambush motorists?
Cop: What do you think will happen to even the most pious wife whose policeman husband cannot feed properly least off all buy Christmas wrapper for?
Me: Tell me.
Cop: His neighbour will start riding his wife and in no time one the children will look like the man next door or even the mallam selling tea or mai-suya down the road.
Me: But running after danfo and ambushing okada is so not decent.
Cop: And treating policemen like they don't matter is decent? Take a good look at me, this uniform is the only decent outfit I have, the only thing I can wear and still command respect. And it is like that with most policemen. We just work round the clock and get paid peanuts.
Me: But the government just increased your salaries not too long ago.
Cop: Indeed? In 2011, N13.6billion was budgeted for capital and overhead expenditure but only N6.4billion was released for capital expenditure. This year only N7bn out of the N9.6bn budgeted for capital expenditure was released. Is that how to take care of the force and its men?
Me: what do those figures have to do with anything?
Cop: It means the Nigerian Police are poorly funded. We are expected to wring water out of the stone, do magic with our hands while funds for modern equipment is lying somewhere.
Me: The Nigerian police are not the only poorly funded Nigerian institution.
Cop: Which is why you should go and concentrate your interrogation skills on those other institutions. Let me go back to my duty so I can make extra money to make my children happy.
Me: Do your children know you ambush commercial motorcyclists?
Cop: Do the children of those who sit on Nigerian Police funds know their daddies are endangering your life and mine?
Me: Well…
Cop: Exactly. Everybody blames the policeman when it is the system that is warped. If funds are not provided to buy the right guns, for instance, why does everybody expect us to go and face criminals who go for operations with weapons meant for wars? How many policemen do you see on the streets wearing bullet-roof vests?
Me: Is that why you don't respond to distress calls?
Cop: Oh, you expect me to rush into a hail of sophisticated bullets wearing just my uniform? Very funny. You want my children to become orphans?
Me: And then there is the issue of the mai-suya eyeing your wife…
Cop: Not funny, but no policeman wants to die for a system that abandons your family as soon as the coffin is lowered. Do you know that if a Constable dies in the line of duty, his family gets just N500,000 compensation and N100,000 for burial expenses?
Me: Seriously?
Cop: Yes, seriously. How do you now jump into a patrol van to go and face robbers armed with Multi-Purpose Machine Guns (MPMGs) when if you die, your sons are likely to end up as area boys and your daughters prostitutes? Why should I want to die for this kind of country? Don't policemen see the kind of affluent lives of the teenage children of those who should make Nigerian Police better?
Me: But even when we come to report cases at the stations you tell us to bring money for stationery…
Cop: If the system does not provide something as small as log book, am I expected to tear from my daughter's exercise book?
Me: Are you saying this country deserves the police it has?
Cop: I'm saying policemen do not have duplicate lives.
Me: But when you retire you get full benefits. Must you focus on dying in the line of duty all the time?
Cop: Retire with full benefits where? You think we are not aware of the evil men stealing police pension funds. So you see, it is either a policeman dies in the line of duty or he dies on a pension queue. Now, if you don't mind, I have to go after the next danfo or okada man. I also want to live long and raise children who will become Senators, reps and governors, not vagabonds.
[About the author: Funke Egbemode, egbemode_funke@yahoo.com]