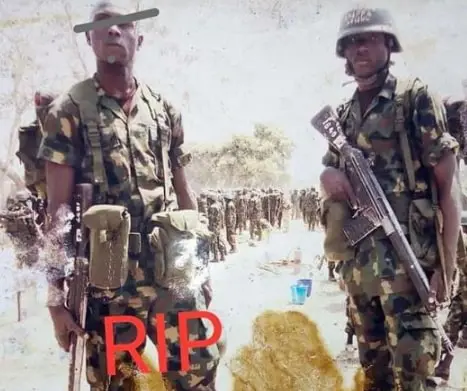 10 Nigerian Soldiers Who Committed Suicide In The Line Of Duty (Photos)
The issue of mental health and the welfare of Nigerian soldiers has become a major cause for concern, especially those fighting insurgency in the North-East. There have been several incidents in recent years where soldiers have opened fire on their colleagues and superiors before committing suicide.
On Friday the 10th of March 2023, a soldier identified as Private Diko opened fire on his colleague before killing himself in Gwoza Borno state. He was posted there to fight Boko Haram.
Another incident happened last week when Lance Corporal Nwobodo Chinoso shot and killed the Commander of the Forward Operating Base (FOB) Rabah in Sokoto State, Lt. Sam Oladapo. Chinoso also shot the FOB Rabah Command Sergeant Major (CSM), Sgt. Iliyasu Inusa, and another private soldier, Attahiru Mohammed, before turning the gun on himself.
In March 2022, Yahaya Ibrahim, a soldier fighting Boko Haram insurgents in the North-East, opened fire on his colleague, Abubakar Mohammed. Ibrahim was said to have suddenly cocked his rifle and shot Mohammed in the shoulder from behind.
In April 2021, Corporal Kila Jima, who served in the Army's 152 Battalion in Banki, Borno State, killed himself.
In March 2021, soldier Bello Useni, who was attached to the Nigerian Army School of Armour in Bauchi, also took his own life.
In September 2020, a lance corporal attached to the Army's 27 Task Force Brigade in Buni Gari, Gujba Local Government Area of Yobe state, committed suicide at his duty post.
In July 2020, a soldier in the Army's 202 battalion in Bama, Borno State, killed a lieutenant who did not give him a pass to visit his family.
In 2019, a soldier hanged himself in Abuja, while in 2017, another soldier committed suicide after killing his superior officer.
The recurring nature of these incidents has raised concerns about whether soldiers fighting Boko Haram are receiving adequate mental and psychological treatment. Some soldiers have complained in the past about poor welfare, overstaying in the region, and abysmal treatment by the military hierarchy.
Many soldiers have also been battling with depression and post-traumatic stress disorder (PTSD) as a result of the ongoing conflict. The Nigerian military has been criticized for not doing enough to address the mental health and welfare of its soldiers, despite the risks and challenges they face daily.
It is essential that the Nigerian government, as well as the military hierarchy, take the mental health of its soldiers seriously and provide adequate support, both in terms of welfare and psychological treatment. Soldiers who have been deployed to the frontlines of the insurgency need to be rotated out and given a break to recover from the psychological and emotional trauma they may have experienced during their time in service.
Moreover, there should be more extensive efforts to create awareness about mental health issues among soldiers, as well as provide training and support to help them cope with the demands of their service. It is essential to remember that the mental health and well-being of soldiers are crucial in ensuring that they can perform their duties effectively and that their sacrifices for the nation are adequately recognized and appreciated.