Columns
Nigeria's 2013 Budget Of N4.987 Trillion Passed (Breakdown, Summary)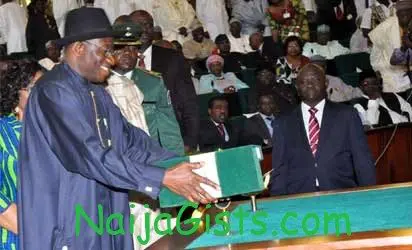 Dec 21st, 2012 – Nigeria's 2013 Budget Of N4.987 Trillion Passed (Breakdown Summary)
On Thursday the 20th of December, 2012 , the national assembly passed a whopping 4.987 Trillion naira for Nigeria's 2013 budget.naijagists.com
The budget was increased by 63 million naira since the initial budget proposal submitted by President Jonathan was N4.924 Trillion.
Nigeria's 2013 Budget Breakdown / Summary
N387,976,000,000 for statutory transfers
N591,764,000,000 went for debt service
N2,386,024,770,349 earmarked for recurrent (non-debt) expenditure
N1,621,477,655,252 for capital expenditure.
Nigeria's 2013 Budget Analysis: Capital Expenditure
N168,173,800,000 allocated for Works
N84,228,166,366 allocated for Water Resources
N73,159,378,866 allocated for Power
Hope they will do something to tackle the problems of unemployment and corruption currently battling the nation.
God have mercy! What a huge budget!