Columns
President Jonathan Has Been Spiritually Programmed To Fail – Anselm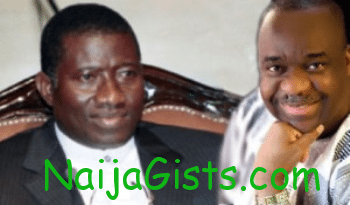 April 4, 2012 – President Jonathan Has Been Spiritually Programmed To Fail – Anselm

Founder of Revival Assembly, Apostle Anselm Madubuko in a recent chat with news reporters in Lagos made some remarks on the present situation of Nigeria and President Goodluck Jonathan's Presidency. naijagists.com
Read the interview excerpts below
Q: This year started on a very negative note for Nigeria. Did you have any premonition of what God has in store for the nation? 
A: I will not say I saw it coming but I'm not totally shocked because apparently, Nigeria is on the verge of a major breakthrough and the devil is not happy, hence he is using everything he has to bring religious wars, tribal wars, all kinds of confusion. The people have not understood that although our president is not the best, he is still our president.
President Goodluck Jonathan has been spiritually programmed to fail and without strong intercession, he will definitely fail.
So, the job of the Church is to continuously break the spell over his presidency; the bad spell that the wicked people have cast over his government.
If we just keep talking about him, all of us will go down, the nation will go down, Jonathan will go down and we will all perish. 
But if we call upon the name of the Lord, there will be respite. We can't say we have prayed enough. The things that are happening are expected to provoke us to more prayers. This is not the time to curse our president. It is a time to prophesy continually over his presidency and speak positively. 
I hear people say; "men of God did not join in the mass protest. They should lead by example". To such I say;
"People have different callings. I am not called to stand on the road and be cursing the president. That is not my calling".
Q: Are you then saying that the nationwide protest was uncalled for? 
A: What did we gain from it? The thing that we achieved through it could have been achieved without it; yet the nation lost a lot. Most importantly, we lost lives.
We can't do things because Egypt did it. Egypt did theirs that way but it does not mean that is the way of our own business with God. Our own business is on our knees; we are to stay on our knees until we see the desired change. 
So, this is our nation and we have got to salvage it. We can't just allow things to go wrong. 
We have to keep talking to God until He hearkens to our cry.
God help Nigeria.