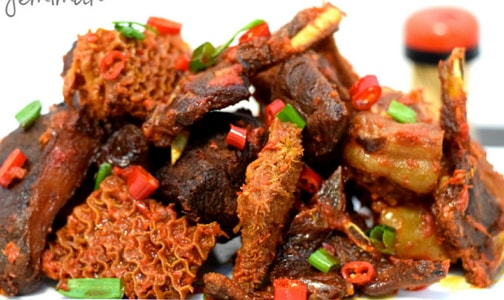 Here is a useful life saving tip by natural health guru and top commentator Jilo.
"Let's us reduce our intake of Red Meat or completely avoid it because it constitutes more than 70 % of Colon Cancer cause.

We all have different body but some people digestive system are totally intolerant to meats yet, we love it so much that we include it all our diets. Why not replace that with Fish, Chicken or Duck. "
To further buttress Mr Jilo's point, a new study research published in the International Journal of Cancer suggests that a diet including red meat may increase the risk of certain types of colon cancer .
Researchers at the University of Leeds examined data from the United Kingdom Women's Cohort Study, which consisted of over 32,000 women from England, Wales, and Scotland. Participants were recruited by the World Cancer Research Fund between 1995 and 1998 and tracked for an average of 17 years. Researchers found that regular consumption of red meat was linked to higher rates of distal colon cancer in women, a type of cancer that affects the last part of the colon.
"The impact of different types of red meat and dietary patterns on cancer locations is one of the biggest challenges in the study of diet and colorectal cancer," said lead author Dr. Diego Rada Fernandez de Jauregui. "Our research is one of the few studies looking at this relationship and while further analysis in a larger study is needed, it could provide valuable information for those with family history of colorectal cancer and those working on prevention."
A total of 462 colorectal cases were documented by the study. Among 335 colon cancers, 119 of those were distal colon cancer. Further, the information obtained suggested that women who do not eat red meat have a reduced risk of distal colon cancer.
Study co-author Janet Cade, who also acts as head of the Nutritional Epidemiology Group and Public Health at the School of Food Science and Nutrition at Leeds, commented on the findings. "Our study not only helps shed light on how meat consumption may affect the sections of the colorectum differently, it emphasizes the importance of reliable dietary reporting from large groups of people. With access to the United Kingdom Women's Cohort Study, we are able to uncover trends in public health and analyze how diet can influence the prevention of cancer."
The impact of red meat, particularly bacon and deli slices, on human health has been the subject of many recent studies. In 2015, red meat was classified as a probable carcinogen by the International Agency for Research on Cancer, an agency of the World Health Organization. Since then, new studies have linked the consumption of red meat to colorectal cancer, breast cancer, and a 70 percent increased risk of rectal cancer, among other forms of the disease.
In response to these connections, the Physician's Committee of America filed a lawsuit against two school districts in the state of California for serving processed meats to students. Similarly, a group of lawmakers in New York City are working to have processed meats banned in all public schools.
Report Credit:  [Live Kindly, Popular NG Commentator Jilo].