Crime News
Ritual Killers' Hideouts In Nigeria Exposed: Ritualists Hot Spots To Avoid – Police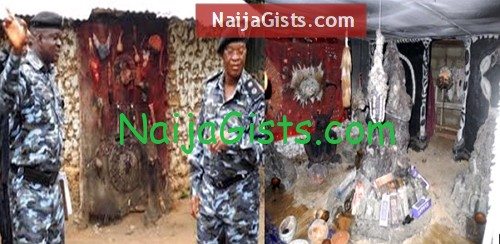 Nov 6, 2012 –  Ritual Killers Hideouts In Nigeria Exposed: Ritualists Hot Spots To Avoid – Police
Nigerian Police Force has revealed a list of popular locations and hideout of ritual killers (Ritualists) in Nigeria. naijagists.com
Based on investigations, below are the most popular ritualists hideouts in Abia, Lagos, Ogun, Kogi, Kaduna, Anambra, Kwara and Rivers State.
1. Ota, Ogun State
2. Lambe, Ogun State
3. Ikorodu,Lagos State
4. Mowe, Ogun State
5. The Bridge linking Abiola Garden with Otedola Estate, Lagos.
6. Isheri Olowo-Ira under Bridge, Lagos
7. Toyota Bus Stop on Apapa/Oshodi Expressway, Lagos (Clifford Oji's former location)
8. Waterfront River Niger area Of Onitsha, Anambra State
9. Isiala-Ngwa, Abia state
10, Igwurita, Muruokoro, Port Harcourt, Rivers state
11. Ilorin-Oro Road, Kwara state
12. Lokoja-Abuja Expressway, Kogi state
13. Kaduna Eastern By-Pass, Kaduna state
14. The Bank of River Kaduna, Kaduna state
15. Kaduna/Abuja Expressway, Kaduna state
16. Abuja Motor Park,Kaduna
17. Kawo Motor Park, Kaduna
18. The Railway tracks, Kaduna
If you know of any other ritual killing hotspots in Nigeria not listed above please contact the police on the following emergency nos
POLICE CONTROL ROOM 1 – 07055350249 and 07035068242.
RRS CONTROL ROOM 2, Alausa – 08065154338 and 07055462708
CONTROL ROOM 3 SHQ; – 08079279349 and 08063299264 and 767 toll free line.
HOW TO ESCAPE RITUAL KILLERS IN NIGERIA
Here is an important instruction from the Nigerian Police Force on how to avoid being caught by Ritual Killers in Nigeria.
If you by mistake fall victim quickly send an sms/pre-text message to all or any of these numbers.
Make sure you drive at the middle of express road at all times. If anyone tells you that your car is sparking or there is fire or smoke coming out from your car bonnet, please do not listen just drive on. That is their new tactics.
Pls kindly advice your loved ones accordingly.
Forward this to your friends, loved ones and families.
You might save them from the hands of these evil ritual killers.
For more information: https://www.npf.gov.ng/information/press-releases/