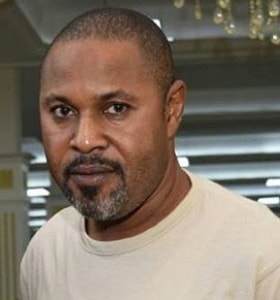 Popular Nollywood actor Saidi Balogun is about to get tongues wagging for saying there is no big deal in acting in a soft porn movie.
Here are the criteria he listed for featuring in such:
 "There is virtually no movie role I cannot act. There is no big deal acting in a soft pornographic movie, it all depends on the pocket of the producer.

However, if I am to act in such a movie, you would not see my 'Tom Jones' or my 'Baba Jamal.' I don't really want to go into that so that my colleagues that are doing that would not turn me into their enemy. The only time I can reject a movie role is if the script is not good or it is too ordinary, I call them, "normacine capsule".
He said that despite the fact that he has acted in several amorous scenes, he has never been aroused.
"Affection comes from the heart and if you are my colleague on a movie set, kissing and touching you would not mean a thing to me because I do not have any feelings for you and I am just doing my job and nothing more. I have never been confronted with a situation whereby a colleague would want to extend an amorous scene outside the movie set," Balogun said.
The actor revealed that he has had so many reactions from fans based on the way he portrays his movie roles. He shared an experience with Saturday Beats in which a woman gave him a deep kiss in the presence of her husband.
"There are so many things that fans have done to me, too many. There was a day I was walking on the road and all of a sudden, a lady hugged me from the back. When I turned around, she gave me a kiss and told me that she loved the way I interpret roles.
After she had done that, she introduced me to her husband who was standing in a corner and the young man simply said that I was his wife's 'husband' for that day. The only thing that came to my mind was that she was lucky she was not my wife. If not, I knew what I would have done to her.
"Also, there was a time a man saw me and began to rain curses on me in Yoruba language. He said he just loved the way I interpret roles. I was not upset because that is the best way he knows how to express his emotions," the movie star said.
[Saturday Beats]