Hot Gists
Abacha's Loot Recovery: Stolen $700 Million Returned To Nigeria From Switzerland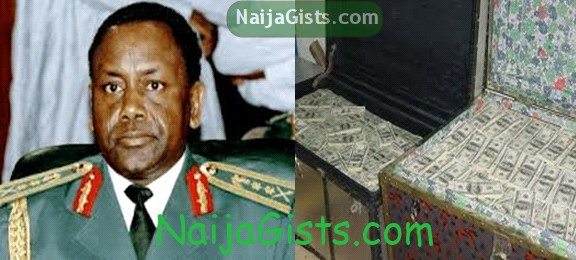 Dec 6, 2012 – Sanni Abacha's Loot Recovery: Switzerland Returns Stolen $700 Million To Nigeria
Nearly 15 years after the death of General Sani Abacha, Nigeria's former military ruler, the Swiss Government has said that it has so far returned to Nigeria the sum of $700 million stolen by the late dictator and deposited in several Swiss banks.
The Swiss Ambassador to Nigeria, Dr. Hans-Rudolf Hodel, announced the figure at a media briefing in Abuja on Tuesday.
Hodel also hinted that his country had begun proceedings in Geneva
against one of Abacha's sons -Abba, for allegedly sponsoring a criminal organization but did not give further details.
The envoy explained also that in the last 15 years, Switzerland has returned about $1.7 billion of illicit money to their countries of origin including Angola, Peru, Nigeria and the Philippines.
The briefing was in respect of an international seminar by the Switzerland embassy and the Inter-Governmental Action Group against Money Laundering in West Africa, GIABA, and Combating the Financing of Terrorism.
The envoy however used the forum to deny the existence of fresh $1 billion being alluded to by former President Olusegun Obasanjo as still being held by the Swiss banks.
Hodel stated that the Abacha's case in particular compelled his country to adopt more stringent measures to combat illicit dealings in its financial sector.
He said: "Swiss banking secrecy does not give any protection against criminal prosecution, neither within Switzerland nor regarding international legal assistance. Additional measures prevent assets from being withdrawn before foreign authorities and law enforcement agencies submit a formal request for legal assistance or information for investigative purposes."
He expressed the hope that the repatriated funds would not be embezzled by corrupt officials of the benefitting nations.
He also spoke on the bilateral relations between Nigeria and Switzerland noting that $225 million was invested by Swiss businesses in the Nigerian economy in 2010 up from $201 million in 2009.
It will be recalled that a Geneva court had two months ago confirmed
the sentence handed down on the son of the former Nigerian dictator Sani Abacha for belonging to a criminal organisation linked to looted assets charges. (Source: Vanguardngr)