Hot Gists
Shocking: Poor Indian Parents Give Baby Python Snakes To Play With As Toys
Nov 16, 2012 – Shocking: Poor Indian Parents Give Baby Python Snakes To Play With As Toys
To 6-month-old Indian baby toddler, Sidhi Siddharth Sinune, the python snake in the picture above is a her everyday toy. naijagists.com
Because her parents who work as farmers couldn't afford to buy her a toy, his father, a popular snake catcher said he brings deadly pythons home for his daughter to play with as toys.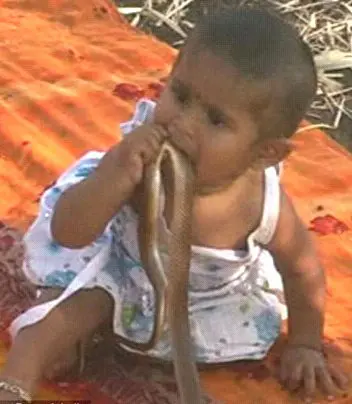 Shockingly while little Sidhi's parents are working on the farm in Maharashtra, the baby spends her time in the company of this deadly creature that could kill her by swallowing or constriction.
Sidhi Siddharth Sinune crawls behind the python and shrieks in delight as it weaves through her tiny legs.
The baby even gives the deadly creature a playfully bites which might result in retaliatory bite.
According to her father, Sidhi loves playing with snakes
'Being a poor farmer, I can't buy her costly toys but I can get her snakes to play with. – Sidhi's father said
SPAMMERS ALERT:
Beware of spammers posting offers in the comment section of this blog, we are in no way endorsing their offers.
DO NOT WASTE YOUR MONEY ON SUCH OFFERS.