Celebrity Gossip
Actor Robert De Niro Fights Jay-Z At Leonardo DiCaprio Birthday Party In New York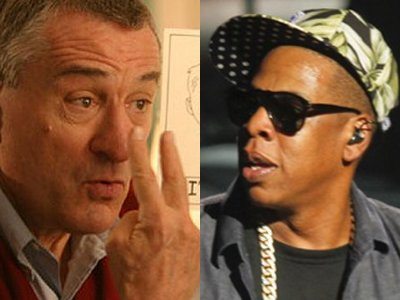 Nov 16, 2012 – Actor Robert De Niro Fights Jay-Z At Leonardo DiCaprio Birthday Party In New York
American Actor Robert De Niro and Jay-Z got into a tense beef at Leonardo DiCaprio's birthday bash the other night, when De Niro called the rapper disrespectful, Page Six can exclusively reveal.
Spies say "Godfather II" and "Taxi Driver" star De Niro gave Jay a dressing-down in a roomful of celebs including Martin Scorsese because the rap mogul had refused to return De Niro's calls.
Sources add that Jay tried to joke his way out of the situation, and even his wife, Beyoncé, tried to intervene, but De Niro wouldn't back down.
"Bob was sitting at a table, and when Jay-Z went over to say hello, De Niro told Jay that he never called him back," a source says.
A spy then overheard De Niro complaining to the rapper, a fellow TriBeCa resident, about a song Jay-Z agreed to record for the Tribeca Film Festival. De Niro had reached out to discuss further details, but Jay never returned his calls.
"Bob wasn't in any mood to make polite conversation," the spy says. "He told Jay that if somebody calls you six times, you call them back. It doesn't matter who you are, that is just rude."
When Jay-Z tried to make a joke of it, saying he is terrible on the phone, a source says, "De Niro kept telling him that he thinks he's the man, but that he was disrespectful.' "
"Beyoncé came over, but that didn't calm Bob down," the source said, adding that afterward, "It was the talk of the party.
Source: Page Six
SPAMMERS ALERT:
Beware of spammers posting offers in the comment section of this blog, we are in no way endorsing their offers.
DO NOT WASTE YOUR MONEY ON SUCH OFFERS.