Columns
Shocking Predictions By Primate Elijah Ayodele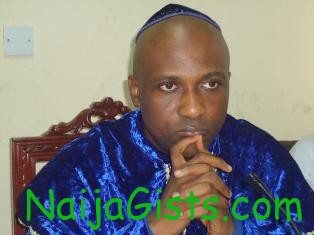 August 6, 2012 – Shocking Predictions By Primate Elijah Ayodele
Primate Elijah Babatunde Ayodele has dropped another bomb shell predictions for 2012/2013. naijagists.com
Primate Ayodele's new annual prediction book titled "Warning To The Nations", contained testimonies from his earlier predictions and divine messages he got for Nigeria.
His last predictions which were published in popular newspapers across the nation states:
The National Security Adviser, General Andrew Owoye Azazi and the Defence Minister, would be removed
A soccer player would die in action and the Spanish soccer team's victory
Governor Adams Oshiomhole will win with prayers
Ok that's past, let's hear his new predictions.
Primate Elijah Ayodele's Predictions For 2012 / 2013
A Message For Governor Ibikunle Amosun Of Ogun State
A Message For Governor Ibikunle Amosun of Ogun State: "Let Amosun be very prayerful and watchful", he warned, "I foresee him having a narrow victory in 2015. He needs to be very careful because I have not seen him getting a second term as governor".
A Message For Governor Abiola Ajimobi Of Oyo State
A Message For Governor Ajimobi: "Governor Ajimobi of Oyo State should be a good student of the state's politics. He needs to be careful too and be wary of those that surround him if he desires to come back as governor in 2015.
Warning About Kidnapping For Money Rituals In Nigeria
"Kidnapping for money rituals will have a field day in Nigeria and only serious prayers can help the nation.
A Message For President Goodluck Jonathan
Message For The President: President Goodluck Jonathan would appoint the wrong person as the Defence Minister. His strategy of removing Ministers or heads of agencies will not work; it will not bring an end to the Boko Haram menace.
Boko Haram was formed to fight Jonathan and the only solution to Boko Haram is for Jonathan to step down as President of Nigeria, nothing else will work, that is what God has told me. Besides, if Jonathan insists on contesting again as President in 2015, a sect deadlier than Boko Haram will emerge and that will be the basis for Nigeria 's break-up".
"President Jonathan must not dialogue with Boko Haram or arrange an amnesty programme for the sect. If he does, he will regret it. I also foresee him changing his ministers soon. There will be panic among the political leadership between December 2012 and December 2014, and I foresee a situation where political leaders will resign from government. Only prayers can avert such a situation".
"I foresee a situation where each states will witness the birth of a militant group, and this will cause the federal more troubles because they will have to start negotiating with these groups on state basis".
More deadly attacks are coming from terrorists, especially Boko Haram against churches in Nigeria . There will be religious crises. Christians should be prepared for bigger attacks. The ACN and CPC planned alliance will not work. There is going to be misunderstanding among them".
"The House of Reps speaker, Hon. Tambuwal will become a big target. He will be shaken by enemies and he needs prayers to survive it. Wale Babalakin will face a big problem and he should be watchful of those around him who will make attempts to stab him. Femi Otedola will be taken to court and he has to watch his moves".
"The Customs Service and the Immigration Service will change their uniforms. ETISALAT and NITEL will change their names and their Boards must be committed to serious prayers. A new Logo will be made for GLOBACOM and MTN will run into serious debts.
"Fola Adeola will have problems with his political ambition. People around him will stop him at all cost. But the Lord says if he prays very well, he will escape the plots. Senate President David Mark and the Vice President, Namadi Sambo will have problems over presidential ambition towards 2015 because a state governor will come up to contest too. Obasanjo, Ekwueme and Edwin Clark are playing their last politics. Emirs of Zauzau and Katsina will be attacked by bombers".
Senator Mark & VP Namadi Sambo' Presidential Ambitions
"God revealed to me that both Mark and Sambo are nursing the ambition to contest for the presidency to succeed Jonathan. There will be problem between the PDP chairman, Bamanga Tukur, while President Jonathan and Tukur needs a lot of prayers for his health".
End of prediction!