Entertainment News
Nigerian Lobbyist Sholaye Jeremi Biography: Wife & Oil Business Dealings Of Linda Ikeji Married Baby Daddy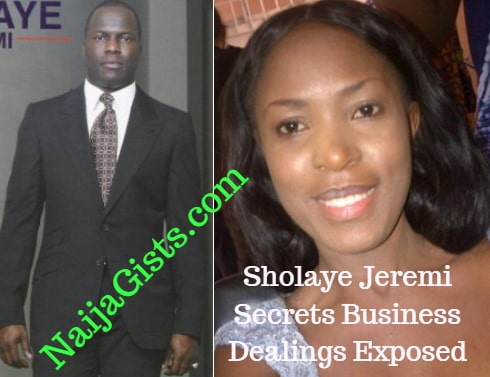 Nigerian Lobbyist Jeremi Sholaye Biography: Wife, Profile, Family History & Life Story Of Linda Ikeji Married Baby Daddy
Secret Oil Business Dealings Of Linda Ikeji Married Baby Daddy Exposed
You've probably heard about the baby daddy of popular Nigerian blogger, Linda Ikeji. The question is: How much do you know about this man? Linda recently made the much anticipated revelation, after months of concealment. The revelation came shortly after the birth of her baby boy, Jayce. We've carried out a comprehensive research and we have put together all you need to know about this famous baby daddy, Sholaye Jeremi.
Sholaye Jeremi's Biography
Sholaye was born on 8th July, in the late 1970s. He is of Itsekiri origin from Delta state. This gentleman according to reports, is an astute businessman, who has made significant success for himself through his dealings in the oil and gas sector. His exploits as a successful businessman has, however, came with little to no publicity.
According to reports, Jeremi currently lives in Ikoyi Lagos, and he is a very close business associate of notable tycoons within the Nigerian business world. Sholaye is rumoured to be the brain behind many petroleum contracts and dealings of the Nigerian minister of Petroleum (State), Dr. Kachukwu Ibe. The report further emphasized that, the silent billionare tycoon, Sholaye Jeremi, knows of every major oil and gas dealings, within the Niger Delta region. He is a known lobbyist and contractor of many major oil and gas firms in Nigeria and beyond.
In addition, Sholaye is reported to be a married man. Rumours have it that, his wife and kid(s) are based in the United Kingdoms.
From all indications, this gentleman prefers the tranquility that precedes and succeeds his personal life and business dealings. However, given his rumoured entanglement to the popular blogger, as well as the recent revelations, which confirms Jeremi as Linda's baby daddy, Sholaye Jeremi's life will never remain the same again. Everything about him, ranging from his business dealings to his personal life would, henceforth, be a little loud skin. The bottom line is, this gentleman will constantly be under the microscopic scrutiny of every social researcher in the country.
How Sholaye Jeremi Met Linda Ikeji?
According to unconfirmed reports, Sholaye Jeremi used to live on the Lagos Island around Lekki axis. He, however, recently moved to Banana Island, Ikoyi Lagos some years back. This makes him a close neighbour of Linda Ikeji as the popular blogger also has her multi-million naira mansion in Banana island.
Rumours have it that, Linda and Jeremi met in their neighbourhood sometime in 2016, during one of Jeremi's routine drive-around in his Rolls Royce. They hit it off at once and consequently became entangled in a bottled-up amorous relationship. The cloak, which concealed their relationship could pass a CIA clandestine test. Both lovers were able to blank out virtually everyone from having the slightest insight into there relationship.
For Sholaye, his reluctance or more likely, his disagreement, of a publicized relationship with a very popular figure as Linda is quite understandable. Sholaye Jeremi's entire life and business rests on the side of his proven degree of confidentiality, such that, a keen investigative look into his life and wealth could reveal some skeleton in the wardrobe. This will obviously be disastrous for him, and more importantly, it would be disastrous for his trusted allies and business associates.
Linda, on the other hand, is technically the grand Empress of the Nigerian Blogosphere and the entire Nigerian media sphere. She breaths, feeds and survive by poking into the lives and revealing private and sometimes, damaging information about popular figures within the country. This puts her in an extremely tough position, as her supposed fiance, Sholaye Jeremi, is a complete corporate-introvert.
Their secret relationship blossomed for close to two years and as luck would have it, Linda got pregnant and recently gave birth to their baby boy, Jayce.
Linda's Emotional Blackmail of Sholaye Jeremi
The formidable cloak, which shielded Linda's secret relationship with the silent billionaire oil tycoon, Sholaye Jeremi, started losing strength the moment Linda decided to keep the pregnancy. She was able to conceal the pregnancy for some months, but nature wouldn't allow for further concealment.
Linda, who has always been an advocate of celibacy and a strong campaigner against premarital sex feared for her reputation and got ahead of the game. She consequently revealed her pregnancy and engagement to the whole world. This was her first step in bullying the Baby daddy, Sholaye into submission.
The report of her pregnancy filtered through every media platforms within and beyond Nigeria. The media controversy that trailed her announcement was the mystery surrounding the identity of the baby daddy, who was later revealed to be Sholaye Jeremi.
Shortly after Linda gave birth, She revealed the name of her baby as Jayce Jeremi, which was her subtle way of revealing the father of her baby. This subtle revelation was to Jeremi, a blatant betrayal of trust by Linda, as her subtle revelation effectively removed the cloak of their secret relationship; hence, making him extremely vulnerable to public scrutiny.
So far, since the birth of his son, Sholaye Jeremi has maintained his silence. He is yet to publicly acknowledge or reject baby Jayce as his own. One obvious thing is; Linda is attempting to bully Sholaye Jeremi into accepting the baby. The outcome still remains fluid.
Sholaye Jeremi's Associates
Sholaye Jeremi & Dr. Ibe Kachukwu
One of the verified information about this gentleman is his reported association with the Nigerian minister of Petroleum (State), Dr. Ibe Kachukwu. According to unconfirmed sources, Sholaye Jeremi lobbies to acquire high-worth oil and gas contracts from the Nigerian government. His link to the Nigerian minister of State for Petroleum makes him a hot cake in the game. With this, he is able to acquire many sumptuous oil deals for his clients.
Sholaye Jeremi & Femi 'Forte' Otedola
We emphasized earlier that, Sholaye is an associate of many major players in the Nigerian oil and gas sector. One of the top movers in the petroleum sector is Billionaire Oil Magnate, Femi Otedola. Femi Otedola is one of the top 5 richest individuals in Nigerian and his primary business is oil and gas (downstream). Otedola is the owner of Forte oil and he is a known associate of Sholaye Jeremi. Jeremi and Otedola have been spotted together in many business conferences within and outside Nigeria.
Reports have it that, Otedola regularly consults and hire the services of Sholaye Jeremi to help ease his operations and at times to secure contracts.
Sholaye Jeremi & Aliko Dangote
You probably already know Aliko Dangote as the richest man in Nigeria today. Although, there is no verified information linking Dangote to Sholaye, both players have been spotted together at many top business events.
Dangote, who is best known for cement production, is one of the newest players in the oil and gas sector. He is currently constructing his refinery in Lagos. The project, which is worth billions of dollars, is expected to be completed in few years time. Rumours have it that, Sholaye Jeremi is one of Dangote's consultants in the ongoing refinery project.
Sholaye Jeremi & Ayiri Emami
Upon Linda's delivery and subsequent revelation, one of the first known dignitaries to congratulate her and Sholaye (her baby daddy) was Ayiri Emami, a billionaire oil magnate from Warri, Delta state. Ayiri and Sholaye hail from the same state (and the same region). According to Ayiri Emami, he and Sholaye are like brothers.
Ayiri Emami is a popular businessman, whose primary business line is oil and gas. He is a known player in Petroleum and construction (a sector Sholaye also happens to be an expert in). Ayiri is the proud owner of A & E conglomerate, which specializes in Oil and gas, construction and logistics.
Sholaye Jeremi's Other Businesses
Linda Ikeji's baby daddy, Sholaye Jeremi has other businesses, according to unconfirmed sources. Aside being a very successful petroleum dealer and consultant, he is reported to own stakes and shares in telecommunication, construction and logistic coys.
While the actual coy or businesses owned by this silent billionaire remains unknown, it appears he is a major stakeholder in many oil servicing, construction and logistics firms in the country.
He is reported to be one of the major intermediaries between and among prominent oil and gas firms in the country, as well as the Nigerian government. As such, he lobbies for contracts from the Nigerian government, on behalf of these firms. Notable oil and gas companies like Chevron and Shell are reported to have Sholaye on their payroll as a lobbyist and consultant.
Repercussions of Linda's Revelations on Sholaye's Life and Business
The prime factor of Sholaye's success is his ability to stay off the public's radar, thereby eliminating unsolicited scrutiny into his life, business, wealth and associates. His clients and associates bask in the formidable degree of confidentiality, in doing business with this man. With the recent developments, all these are likely to change; for the better or worse.
While he's kept a cool head throughout the controversy, he must be drawing out plans to quel the rumours going round or at best, turn them in his favour. As an astute businessman, which he's proven himself to be, the later seems the more probable outcome.
Furthermore, the effects this controversy might cause to Jeremi's rumoured wife and kid in the United Kingdoms could be damaging.
Hence, the submission goes thus; is the ongoing baby daddy controversy going to ruin Sholaye Jeremi or make him? time will tell.