Crime News
Swaziland King Mswati 7th Wife Senteni Masango Commits Suicide With 40 Amitriptyline Capsules After Years Of Abuse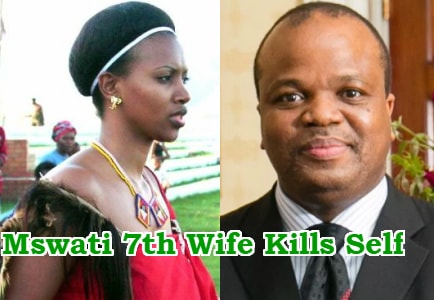 Swaziland's King Mswati 7th Wife Senteni Masango Commits Suicide By Taking 40 Capsules Of Antidepressant Drug, Amitriptyline After Years Of Emotional Abuse & Abandonment
Senteni Masango, the least-celebrated wife of  the King Of Swaziland has killed herself.
According to local media reports, her lifeless body was discovered in the wee hours of Friday the 6th of April 2018.
Coroner reports indicated that the lonely Queen took her own life with depression treatment drug over 3 years after the king abandoned her in a mansion.
She reportedly took 40 capsules of Amitriptyline (Vanatrip) , a popular drug used to treat chronic depression.
Masango who married King Mswati at the age of 18 in 2000 after she was forced to drop out of school has been living a lonely life since the King abandoned her with her two children in 2014.
Queen Masango died nearly a week after her sister Nombuso Masango's burial.
Sadly, the king banned her from attending the burial also.
King Mswati married his 14th wife last year.
Pictured above is the original image of Senteni who took her own life out of frustration and abandonment last week Friday.
Since King Mswati is officially married to 14 women, she is his 7th wife and not 8th as widely reported in the media.