Hot Gists
T.B Joshua 2012 Predictions: Imminent Plane Crash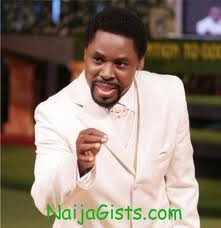 Feb 24, 2012 – Prophet T.B Joshua Prediction:  Imminent Plane Crash
According to News Of The People,  Prophet Temitope Joshua, the spiritual head of the Synagogue Church of All Nations (SCOAN) has revealed that a devastating air mishap is imminent except Nigerians pray fervently to avoid it. naijagists.com
While speaking during a Sunday service at his expansive church, he made the appeal as he revealed a prophecy God had shown concerning the aviation industry.
During the revelation, the prophet said that the imminent plane crash will not be caused by a pilot error or due to a faulty airplane, but will be security-related. The prophecy also revealed that the plane crash, if not averted, will involve one of Nigeria's local flights. The prophet therefore advised Nigerians to pray zealously so that the country will not experience such a disaster, which might claim the lives of many government officials.
As part of measures to avoid being a victim of the crash, T.B Joshua advised people who want to travel by air to always recite Psalm 91 before boarding any aircraft in order to ensure safe landing. This is the latest in Prophet Temitope Joshua's prophecies, an aspect of spiritualism which he is quite vast in. Without over stating it, Prophet Temitope Joshua remains one of the most controversial Pastors in Nigeria with over five Presidents of other countries paying visits to his church, Synagogue Church of All Nations, (SCOAN), for spiritual sanctification.
httpv://www.youtube.com/watch?v=CaAItuH7NqY
The often potent and very revealing prophecies of the man of God have also been known to come to pass on several occasions, as he has many times in the past prophesied and such prophecies came to pass.
 

Past T.B Joshua's Predictions
For the record, it was T.B Joshua who revealed years back that the Nigeria 2009 U-17 World Cup squad would perform at the youth tournament held in Nigeria accordingly and the team went on to do so with Sani Emmanuel, one of his church members in the team performing exceptionally well.He was also the one responsible for revelations concerning the Super Eagles of Nigeria at the Africa Cup of Nations when he accurately predicted the disappointing result of Nigeria's game against Guinea which saw the Super Eagles ungallantly bowing out of the African Cup of Nations (AFCON) which ended last Sunday. In that revelation on the Super Eagles, Joshua espoused,
"I was just sitting down and God showed me the game between Nigeria and Guinea next week," Joshua stated on Sunday 2nd October 2011 during a church service, broadcast live on his Christian television station Emmanuel TV. "What I saw was not favourable towards Nigeria." That Osaze Odemwengie affirmed that the team knew of the prediction and were unhappy they did not meet Joshua before the game, was enough to prove that they knew his predictions were real, as he (Osaze) revealed that the prediction of Prophet TB Joshua really affected the players.
The name of T.B Joshua's church goes a long way in showcasing the level of influence Temitope Joshua has, as over twenty percent of foreigners who visit Nigeria at any point in time are said to have been guests of Prophet T B Joshua and by extension the Synagogue Church of All Nations.  With branches in Ghana, United Kingdom, South Africa, Austria and Greece, T.B. Joshua has definitely succeeded in the propagation of the Word of God to an international and heterogeneous population; hence the last time former President of Zambia, Frederick Chiluba came to Nigeria, he insisted on sleeping at the Synagogue Church of all Nations.
Temitope Joshua is also the spiritual adviser of Ghana's President Prof. John Ata Mills, then Zimbabwe's Morgan Tsvangarai amongst many other notable international figures who have turned Joshua's Synagogue to their Jerusalem. He's quite enormously influential with his miracle healing power for all sorts of diseases including HIV/AIDS.
His ministry apart from its potency for healing and prophecy is also a willing and large giver to the needy and less privileged through Joshua's yearly charitable and humanitarian activities. In the wake of all these, it will only augur for the wise as in governance and places of authority to think twice over this impending bomb shell as alerted by the Man in the Synagogue, and this is on the heels of the many tragic and catastrophic air crashes that have befallen this nation in the past viz Bellview, Sosoliso and a score of others are still very fresh in our minds. T.B Joshua has spoken.
 

A Note of Caution:
If you are a born again believer, the best prediction is what you have in your bible there is therefore no cause for alarm.