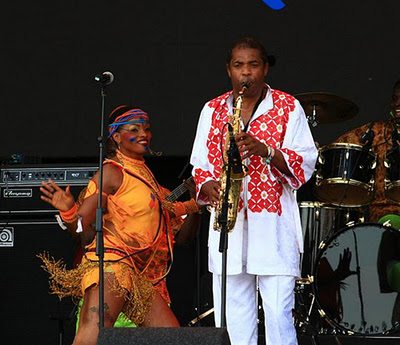 Femi Kuti performing
Feb 24, 2012 – Ain't Nobody's Business If I Impregnate My Dancer – Femi Kuti
To some, Femi Kuti is a reflection of his father's image having not followed the controversial musical patterns of his late father the Abami Eda himself, Fela Anikulapo Kuti. However, to others he is a demi god. naijagists.com
Which ever way the cookies crumble Femi Kuti is indeed and unarguably a multitalented and internationally acclaimed musician with credits to show for his positive achievements.
However, in recent, times the fair-complexioned and soft spoken Grammy Award nominee has been hit by a horde of negativity.
NOP's Lukmon Akintola spent an evening with Femi Kuti last week and he spoke on the several attacks on his image, his forth coming album, how he parted ways with his record label Universal Record, and interestingly the recent controversy of his sixth child from one of his dancers. According to Femi, it is no body's business.
Read the excerpts below.
You have often adopted a less aggressive role in issues that have involved the government, but you changed with the Occupy Nigeria protest, why the change?
It is not true. I have always said what has to be said about the government of our country. All we can do is to advise them and if they decide not to take the advice, what do we do. Because someone has been abusing the government does not mean I too should toe that line. I give advice and if they don't take it, there is nothing I can do. The people in government know the solutions to the problems in our country, but they have just decided to look the other way.
Most musicians in Nigeria measure their musical success by the number of albums they have dropped, what is delaying your next album?
I release albums every two years. I still released one last year and I am planning on going to the studio to work on another album this year. I have found out that I find peace in working in the studio, but people seem to be bent on simply reporting negative things about me. Rather than look at your positive contributions to the music industry and what you have done for your country, they will rather want to paint you in a vain light by giving you a negative image, by attacking your personal life.
The latest one is the story that "Femi is expecting another child".
What if I am expecting a sixth child, whose business is it? They said I impregnated my dancer and she is set to deliver a baby for me and so what. Is it because she is my dancer, do you know how many people sleep with their housemaids in this country, yet it is an issue that I am expecting a child from my dancer. I will rather be with my dancer than be with some one who will not understand me. Do you want me to be with a lawyer that will be talking and I will not understand or a mathematician that will scatter my head with calculation.
At least we are in the same field. Obasanjo's son chased out his wife because his father slept with her, that is an issue to discuss. If the person that wrote the story had even done it like a simple gist, it would have been better, but they were bent on attacking my image and that of the lady who is even a very serious person at that. They have even started segregating by stating that I impregnated my dancer. Have I come to them to say that I cannot take care of my children and that they should help me or have I come to them to say I need their contribution to help my family.
Don't you think your actions by association could have led to all these negative publicity?
How, that my dancer is pregnant for me, whose business is it any way. The fact is that people would not look at your music and the contributions you have made for your country, rather they would write negative stories about you just because they want to sell their magazines or papers. It is only in recent times that things have started changing a little.
May be, it is because the tides are changing or maybe a new crop of young guys who are now journalists have taken it onto themselves to go the extra mile to do their jobs that things are changing, or it is because the new set of journalists have found something interesting in my music and have taken their time to really come close to me or study my music to really know who Femi is or the kind of music he does.
Journalists have written different things about me, both at home and abroad. In fact, now, people abroad know more about me than those in Nigeria, because you can go online and Google Femi Kuti and you will see stories about me that have been written by both Nigerian and foreign journalists.
Do you know how it feels when someone writes that you were spotted in Ojulegba stark-naked smoking a joint? It is bad because it never happened. Why would I smoke a joint or Igbo as it were in Ojuelegba?, and even if I want to do it why would I go and smoke it in Ojuelegba when I can do it in my room without anybody knowing.
And they said I was stark-naked, the only reason why I would be stark naked would be if I am crazy. I go to parties and as soon as I pick up a glass cup people start looking at me wondering what I would do with the glass. They have said I am crazy so people want to see if it is really true. All these things are bad.
You have been nominated for the Grammy Awards three times and each time you have not picked the award, how do you feel about that?
I am celebrating. You can see me with my glass of wine, I am celebrating my consistency. I am not bothered if I have not won the Grammy Awards, because if you ask which Nigerian artiste who lives in Nigeria has been nominated for the awards apart from King Sunny Ade, it is Femi Kuti and if I have even been nominated three times, then it means that I am doing something good for the Nigerian entertainment industry and for my country. That I have been nominated three times is a good thing. I even have medals for the nominations.
Each time you are nominated, you are all called and told that you are all winners and you are given a gold medal. Then they explain to you that although you have won, but the Grammy has to go to only one person. I don't know why I have not won the Grammy because I don't know the prerequisite the 12,000 people who vote use for voting, but I can tell you that if I win the Grammy, I will be drunk for one week and if I don't win it, I will continue to celebrate my thirty years of consistent music. I almost lost focus initially when I was nominated for the Grammy the first time. I wanted to win by all cost, but over a period of time I have come to take it easy because I don't want to lose focus. My people have asked me why don't I want to win the Grammy Award, but I will rather accept it if it comes than worry myself about it coming. If you know the number of artistes in the category of music I do, then you will understand that even to be nominated is not a small thing. Nobody, I repeat, no musician has travelled the way I have travelled in this country.
You recently changed the time for your regular weekly shows, why is this?
Yes. We realized that we were losing some of our esteemed customers. Again we were losing focus because I realized that at times we play from seven till one or two in the morning of the next day during our Sunday show, and this was making us lose focus. Our clientele, who were office people, were also complaining that they had not seen me for a very long time and they were missing me. So, we are trying not to create a situation where we all find ourselves sleeping on Monday morning, instead of being in the office. The show has been fixed to the time we used to perform when we were still in the old shrine before we moved to this place. We will perform from seven to eleven in the evening. Most of our patrons now are the youths, it is good, but we don't want to lose focus, so we are going back to the way it should be.
You were telling us about your philanthropic works, tell us more?
I really don't want to talk about it because it is not what one should be talking about. Unfortunately, I don't have money as I used to have, but when I had more money I did a lot of philanthropic works. I may not give out money, but I may give orphanages food stuffs and buy the motherless babies' homes books for their children. I take care of four children who are not my kids, I don't have to father them, but I do. I have been caring for them since years back and now they are in the University. Even the Police you give money to is part of philanthropy. Every body is saying the police are collecting money from people on the road, but no body is asking why the government is not taking care of the police. If you don't care for them, why won't they collect money on the streets. All I am doing is basically because of the way my father and mother brought us up.
A pastor once said that Fela must have been a prophet to have seen all that is happening now years back, do you agree with him?
I don't think so. The truth is that all those things Fela sang about were also happening then. He only advised then that if care was not taken, all these things would still exist today. If you call that a prophecy, then it's up to you, because the suffering and smiling that Fela sang about was happening then and are still happening now, the 22 seating and 49 standing is also still happening now as it was happening then.
Some time back, you lost your deal with a major music label Universal Records, what happened?
My deal with Universal Records was even a surprising thing because once I was performing and the hall was not that full, and this journalist did a story that he wondered how a person who had a father like I did and who did music like I did could not find a major label to back it. After that story, I think a month later, I signed up with Universal Records.
My problem with Universal Records however started when I released Bang, Bang, Bang and the album was everywhere. It was selling seriously, even in China, only for me to go to my record label and they told me that the album only sold 40,000 copies. I could not believe it, how was I supposed to come back to my country with no money. I sacked my manager, got into a fight with my label and that was how my decline in international music started. I came back to the country and since I already had this property, I started doing my shows here and like they say the rest is now history.
Finally, when should your fans expect another album from you?
I release my album every two years. I am about going to the studio to start work on the next album. So, soon you will get some thing from me.(culled from News of the people)