Hot Gists
The New 5000 Naira Note (N5000) Prototype Picture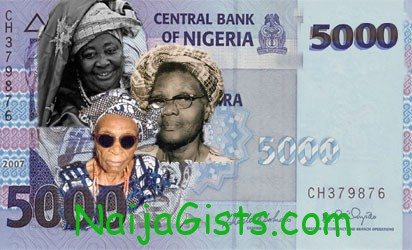 August 26, 2012 – The New 5000 Naira Note (N5000) Prototype Picture
For those who are not aware, the Central Bank of Nigeria, CBN has confirmed the introduction of 5000 Naira currency note / bill into the Nigerian economy. naijagists.com
And the faces on the newly introduced 5000 Naira bill are:
Margaret Ekpo (1914 – 2006), a late activist and politician politician
Hajia Gambo Sawaba (1933 – 2001) , a late politician
Funmilayo Kuti (1900 -1978), the late women right activist
This confirmation was made by CBN Governor Lamido Sanusi last week and the photo above is a prototype of it.
Do you support this move?
Do you think the new 5000 Naira note will worsen the economic situation in Nigeria?