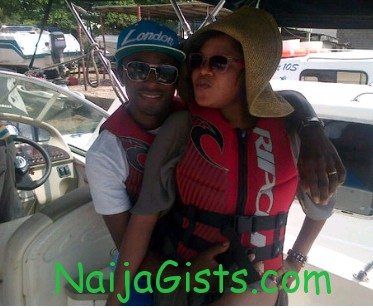 Feb 13, 2013 – Toyin Aimakhu & Husband On Oritoke N17 Million Yoruba Movie Set Sponsored By Okiki Film
Okiki Films and Music Production, a multiple award-winning Nigerian film marketing company,  has embarked on a huge budget production for a Toyin Aimakhu film. The actress is happy at the moment, sources say. The film, Oritoke, which focuses on the ability in disability of an autistic child, is said to have been completed and ready for distribution.
Directed by Bayo Alawiye, the new movie is said to have cost the financiers about N17 million.
"I am on top of the world, I am happy that we have finally finished the job. You can see all over me that I am very tired. I played the part of a girl with autism. My father has autism, it is a hereditary problem. I inherited it from my father but mine was a worse case. My father was very rich and my mother married him for his money.
Things got bad and she left us. It was just my father and I. I had a best friend who happened to be an imbecile. However, my character has a talent, she can drum very well. She thinks like a child, she has the brain of a six-year-old although she is about 30 years. The film is loaded, so educative and highly didactic."
On the choice of Okiki Films for the financing, she said, the company has become a household name in Nigeria and all the films done by the marketing outfit are films that teach morals and are very sensible and interesting.
It would be recalled that Okiki Films emerged the fastest growing marketing film company in the year 2012 with 11 different awards in its kitty.
[The Nation]