Entertainment News
Wizkid Baby Mamas Imbroglio: A Review Of Top Nigerian Celebrities With Multiple Baby Mamas
Wizkid-Baby Mamas Imbroglio: A Review of Top Nigerian Celebrities and their Baby Mamas
In the past few weeks, the Nigerian media space has become continuously saturated with news of Wizkid's alleged negligence of two of his baby mamas and their kids. His first baby mama, Shola Ogudu and the second baby mama, Binta Diallo have continuously accused the music star of neglecting his duties as a father.
In this report, we are going to be looking into some top Nigerian male celebrities and their respective baby mamas.
Wizkid & Baby Mamas
This article is inspired by the current run-ins between Wizkid and his baby mamas. Hence, he tops our list.
Wizkid, whose full name is Ibrahim Ayo Balogun, is a 27-year old Nigerian music star. He currently has three baby mamas; Shola Ogudu, Binta Diallo and Jada Pollock.
As arranged, Shola Ogudu is the mother of Wizkid's first son, Boluwatife; Binta Diallo is the mother of his second son; and his last born, Zion was given birth to by Jada Pollock, Wizkid's current manager.
While, it's been all rosy between Wizkid and his last baby mama, Jada Pollock who doubles as his manager, the reverse is the case between him and the other two baby mamas, Shola and Binta.
Both baby mamas have consistently called out Wizkid on social media over his undue negligence of their sons and his failure to pay up child support.
 Davido & Baby Mamas
While, both Davido and Wizkid enjoys a healthy rivalry on the music stage, they also share a keen likeness for making kids with different women. Davido has two kids; Imade and Hailey from two different women, Sophia Momodu and Amanda respectively.
Although, Davido and Sophia Momodu had several disagreements in the past, they now appear to have a good understanding, for the sake of Imade. As for the other lady, there's been no form of media-disagreement between them, even in the face of the strong romance between Davido and girlfriend, Chioma.
If all goes as we think, Chioma might join the league soon, as a baby mama or better, as a wife.
Timaya & Baby Mamas
Fashionable, talented and mature: Timaya, who is in his late 30s has two daughters and one son, with two women, Barbara and Tama.
Timaya, has been able to maintain a very strong bond with his baby mamas, and their two kids. There's been no form of report, from any source whatsoever, about any form of misunderstanding between Timaya and either of his baby mamas. One can but applaud his immense level of maturity, in keeping his family together.
9ice & Baby Mamas
9ice, whose real name is Abolore Akande, currently has 4 kids with 3 different women. His ex wife, Toni Payne has a kid for him, Zion (his firstborn and only son). He's since gone on to make three more kids, with two other women; Victoria Olubukola Godis (mother of Maya and Miya) and Olasunkanmi Ajala (his most recent baby mama and mother of his last born, Michelle).
He's notorious for being controversial. In fact, the circumstances that led to his divorce with Toni Payne were so messy; when he accused his close friend, Ruggedman of having an affair with his wife, Payne. This eventually resulted in their divorce.
However, he's since kept his personal affairs low-key, post Payne. With little exposure of his family to the media.
2face & Baby mamas
The grand pioneer of 'Baby mamaism' in the Nigerian entertainment circle is no other person than Innocent Idibia, popularly called 2face. He has a total of 7 kids with three different women, which built the motive behind the slogan – "father of many nation".
The first baby mama is Sumbo Adeoye (now married), mother of Zion and Nino, closely followed by Pero Adeniyi, who has 3 kids with 2face. The third and the last is no other than 2face's long lasting sweetheart, Annie Idibia. They have two kids together.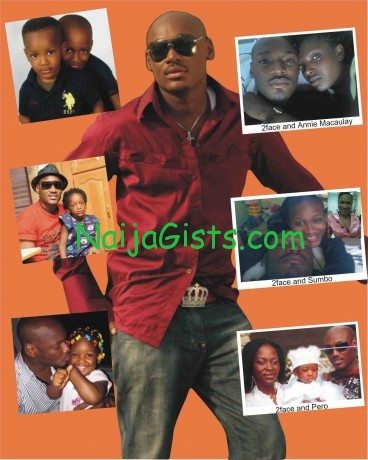 Despite his relatively large family, 2face's been able to maintain a highly cordial relationship between his kids and their mothers. Even when he eventually got married to Annie some years back, there was little to no disturbance from the other baby mamas.
In conclusion, where 2face succeeded, 9ice succeeded, Timaya succeeded, even Davido is currently succeeding; Wizkid on the other hand has failed (to keep his house in order).
The grievous accusations from, not one, but two of his baby mamas seem too authentic not to believe. Although, we probably do not know the whole story, but there is no flame without fire.
Something is definitely wrong between him and the embittered baby mamas.