Inspirational Story Of Zero Hunger Fighter Nwambe Josiah Ebuka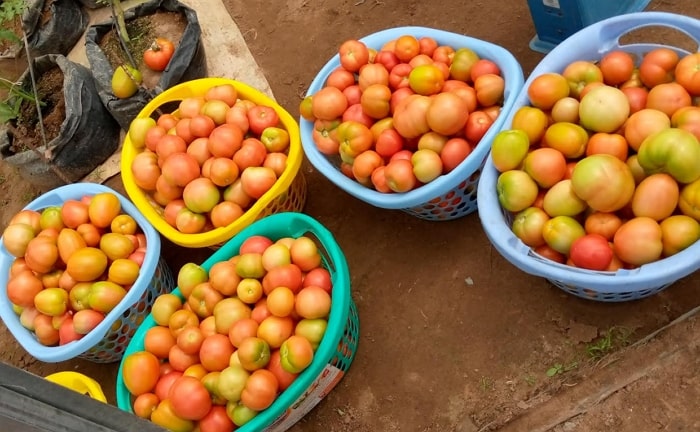 Inspirational Story Of Zero Hunger Fighter Nwambe Josiah Ebuka
On the sidelines of my activities in Abuja, Nigeria's FCT, and my work with the Obaseki/Shaibu Mandate Forum, OMF, today, on his invitation, I paid a visit to the farm of a remarkable young Nigerian, an Agriculturist who likes to describe himself as a "Hunger Fighter", Nwambe, Josiah Ebuka who happens to be my maternal cousin…
Ebuka is a farmer who advocates for sustainable-healthy living and a zero-hunger fighter who believes food shouldn't be seasonal because hunger isn't seasonal…because of this, in his research, Ebuka is continually seeking new way of making all kinds of agricultural produce available in all season.
A native of Ebonyi state, eastern Nigeria, this
young talent
is an entrepreneur, a strategic planner, healthy food advocate,  and a community development worker.
A graduate of Urban Planning, 24-year-old Ebuka's quest to promote sustainable healthy living through healthy feeding, triggered his  quest to merge Urban Planning  and agriculture in what he calls Urban Farming.
He insist he is determined to fight hunger by creating a synergy between agriculture and urban planning to help provide quality food in urban areas using simple urban-agricultural practices…
He is currently with African Center of Excellence in Phytomedicine Research and Development where he majors in vegetables and edible fungi production…
I spent time with, and listen to him talk about his small army of young "hunger fighters" who he has taught and empowered on simple Urban Agricultural practices…
Some of the products you will find in his farm includes mushrooms, tomatoes, cucumbers, after melon etc…and most of his farm produce are genetically produced,  like his inoculated substrates which is the soil in which he plants the mushroom seeds, which produces the mushrooms, one of his produce that caught my attention…
 His mushrooms are present in dried, powdered and fresh forms…he educated me on the importance of the various forms of mushrooms he produces.
For example, Mushrooms he said, harvest belly fat, promotes weight lost and improves the immune system…
Oyster mushroom contains a HMG-CoA reductase enzyme inhibitor substance called statin lovastatin which help lower "bad" cholesterol and fats. It has anti-viral, anti-allergic properties and fight cancerous cells, therefore reducing the chances of cancer or viral diseases.
Mushrooms also have anti-hyperglycemic, anti-soft tissue tumor, immunomodulatory, anti-inflammatory, anti hypertensive…
They dispel cold wind, relax tendons and bones and strengthen yang. He also said mushrooms have been credited with having the potential to treat impotence, weakness of joints and limbs, and backache problems among men…
Mushrooms carries relatively high amounts of good quality protein and can be a very good substitute for meat as both meat and mushrooms even taste alike.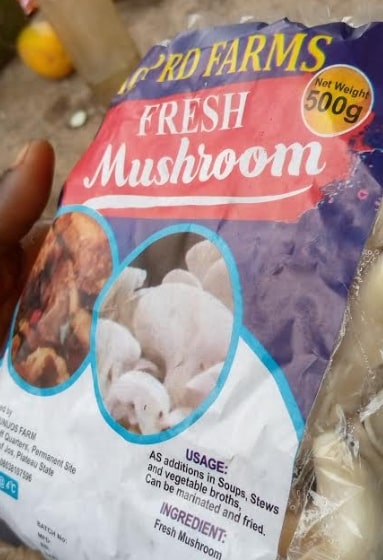 Fresh mushrooms are an excellent source of folic acid which helps the body produce new healthy red blood cells and prevents anemia.
Further, they contain ample concentrations of other B-complex group of vitamins like thiamin, riboflavin, niacin, pantothenic acid, pyridoxine, etc. They help increase energy levels, promote good eyesight and enhance healthy brain function.
Finally, he told me how minerals such as copper, iron, phosphorus present in moderate levels in mushrooms made them modest sources of vitamin-D which plays a vital role in the calcium and phosphate metabolism…
Every human being needs food not just for energy giving but to sustain life in general. But we can't because of this need feed on junk food because without a knowledge of eating right, we may fall prey to consuming junk food.
And the issue of food security should not be over emphasized because of its necessity to life through a sustainable agricultural development…I am sure successive governments understand this, hence their constant call for our youths to go into agriculture…
Agriculture was the major source of the country's economy and source of foreign exchange before the era of oil discovery in Nigeria. It was after the discovery of oil that the agricultural production gradually dropped and lesser attention given to it by the Federal  Governments of Nigeria despite their calls for more Nigerians to go into it, this led to the challenge of food insecurity, unemployment and youth restiveness in the country especially in Niger Delta communities where oil is explored and agric farms are destroyed…
Yet, our quest for food security and sustainable agricultural development in Nigeria should be the major reason why we should all support young minds like Ebuka…
Please reach Ebuka and his Africa Centre of Excellence Phytomedicine Research and Development on 07062168855 for their farm produce…