Hot Gists
Sowore Shares Long Life Secrets Of Grandma Who Died At 100
Omoyele Sowore Shares Long Life Secrets Of Grandmother Who Died At Age 100 – A Must Read….
Sahara reporter founder and Human rights activist, Omoyele Sowore has announced the death of his grandmother.
Madam Moyinoluwa Comfort Olawoye nee Before passed away peacefully today Wednesday the 18th of May 2022 at the golden age of 100.
TheAfrican Action Congress, AAC Presidential Aspirant revealed that the deceased who lived a very good life had insisted on speaking with him in person upon hearing that he has been released from 3-year-long detention in Abuja.
According to him, during his visit to her hometown, she hinted him about her death but he dismissed it. He described her as a virtuous and an industrious woman.
Here is how he announced her passing and the secret of her long life.
"Early this morning my legendary grandmother, Moyinoluwa Comfort Olawoye nee Befo passed on at the age 100!

"My grandmother and I became close later in life because schooling took me away from home quite early. However, recently she started to show signs that she will be departing this world soon, she kept asking to speak with me and I had thought it was because she did not believe anything anyone in the family told her that I had been released from detention since 2019.

"At a point, she desperately sought to have a video chat with me, so on April 17 2022, we had a chat where she stated that we needed to see me in person. I honoured her request by visiting her on May 5, 2022 during a campaign stop in my home state and hometown.

"As she typically talks about life she told me that every friend, mate and acquaintance she grew up with had already left this world. She talked about all the trees and animals she knew and buildings that had collapsed.
"She said she needed to embark on a journey but was just waiting to see me before that very important trip, but because my grandma was often talking about "departing this world" at least for the last 20 years, I told her she's not gonna die yet, at least not until I bring her with me to Abuja as President of Nigeria, I teased. It turned out this would be our final meeting.
The Secret Of Her Longevity – How She Lived Till 100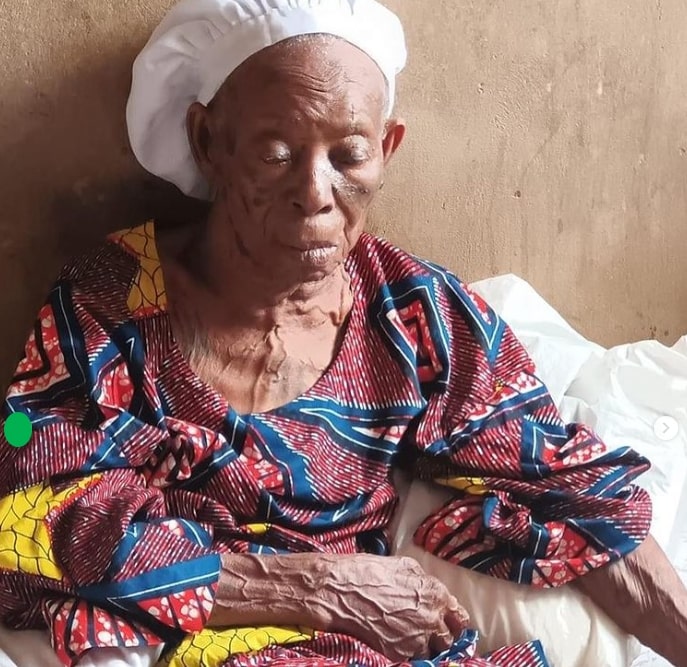 "Let me tell you a bit about my grandma. She's a beautiful person inside and on the outside, she's got tattoos on her arms, legs and on this trip she showed me flowers tattooed on her back, I had never seen those before.

"She is obsessed with cleanliness -OCD grade-and this might have influenced her joining the Celestial Church family. She's got some of the nicest and cleanest Cele Sutana robes. Still showed them to me 2 weeks ago when we met for the last time.

"My grandmother lost her husband 50 years but opted to support her kids on her own, she never remarried! .

She grew and cooked her own food until maybe 7 yrs ago. She ate little, she never drank or partied. She was born and made for heaven!

"She never attended school to the best of our knowledge but what she missed by not going to school she showed in her creative abilities, apart from fishing, she was a trader and engaged in fashion by making her own clothes and those of her kids and grandkids.

"She is in a better place now. Will miss her immensely. Rest in Power, Mama!".