Hot Gists
27 Nigerians Deported From Madrid, Spain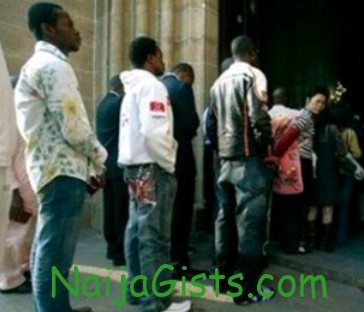 September 3rd, 2012 – 27 Nigerians Deported From Madrid, Spain

In contrary to August's deportation of 27 Nigerians by Spanish authorities, the Nigeria Police yesterday cleared 14 of the deportees of any wrongdoing, explaining that only 13 were found to have contravened Spanish laws.

Accordingly, the police said after a thorough investigation, it has handed over those found culpable to the relevant security agencies in the country.
Spokesman of the Force, Frank Mba, recalled in a statement yesterday that the Nigeria Police Force had, on August 10, 2012, at the international wing of the Murtala Mohammed International Airport, Ikeja – Lagos, received 27 Nigerians deported from Madrid, Spain, for various criminal offences, ranging from armed robbery, drug trafficking, forgery and illegal migration.
"The deportees, who arrived aboard a chartered Spanish Airline flight, were received at the Airport at about 07.30 am, by officers from the INTERPOL National Central Bureau, Lagos. "This followed a directive issued on August 9, 2012, by the office of the Inspector- General of Police. "They were immediately transferred to the office of the bureau, where they were screened to determine their culpability in the allegations against them," Mba said.
He disclosed that at the end of a "meticulous and painstaking screening exercise" conducted by a combined team of officers from the Police, SSS, NDLEA and the Nigerian Immigration Service, 14 of the deportees were found not culpable for any of the alleged crimes, "just as no other credible reason was found to have been proffered by the Spanish authorities for their deportation. They were subsequently, unconditionally released to their relations on bail."
He added that "the other incriminated 13 deportees were handed-over to relevant agencies, based on the nature of their alleged criminal involvement."
According to Mba, eight of the deportees were transferred to the Nigeria Immigration Service in Lagos State and three to the NDLEA office in Ikoyi, Lagos.
The other two have been handed over to the Nigeria Police, Federal SAARS, FCID-Annex.
Mba said those not found culpable have been released to their relatives.
"While assuring the deportees that due process of law will strictly be followed in handling their cases, the IGP advised Nigerians in Diaspora to be mindful of their activities and respect the laws and culture of their host countries."(nationalmirror)