Hot Gists
Obama's Party Invites Tinubu To Democratic National Convention In North Carolina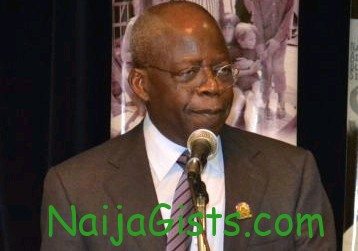 September 3rd, 2012 – Obama's Party Invites Tinubu To Democratic National Convention In North Carolina
Ex-Lagos State Governor and the national leader of the Action Congress of Nigeria will from Monday join American President, leaders of the Democratic Party and thousands of party members and donors to attend the three, day National convention of the party in Charlotte, North Carolina. naijagists.com
Tinubu who was invited to the convention in his right as the leader of the opposition in Nigeria and an influential national figure in Nigeria will be at the ring side as the Democratic Party conducts activities that will culminate in the nomination of President Barak Obama as its candidate for the November 2012 Presidential elections in the USA. Tinubu received a gold card invitation which is prime and with this, he will be joined by three other eminent personalities- Governor Kayode Fayemi, Mr. Dele Alake and Lagos Speaker, Ikuforiji.
On Thursday September 6, at Bank of America Stadium President Obama and Vice President Biden will deliver their nomination acceptance speeches. Tinubu's invitation to the 2012 Democratic National Convention coming after a successful one week lecture tour, townhall meeting and book launch activities in Washington DC and Chicago. Tinubu delivered a powerful lecture at the prestigious Wilson Centre for International Scholars on the challenges facing Nigeria's democratic experiment and offered solutions through the eye of the opposition.
The speech elicited a strong reaction from the Nigerian government. The Federal Government thanked Tinubu for highlighting some of Nigeria's challenges but disagreed with him that not much is being done by the current administration. Also, at a packed town hall meeting in Chicago with governors Rauf Aregbesola and Abiola Ajimobi on hand, Tinubu spoke about Nigeria's search for true Federalism. In a conversational-like town hall meeting, the fault-lines in Nigeria's practice of federalism were highlighted.
There was an agreement that an over centralized system, ran like a unitary system impedes Nigeria's development and makes the other units almost subservient. The system also leaves the states and local governments with unfunded mandates. That Nigeria must decentralize power before development can be accelerated and a national conference is needed now were the messages that echoed around the hall and was sent home to the current leaders. As Tinubu turns up at the Democratic Convention in North Carolina, some of these issues will come up in his private discussions with the leading figures of the Obama administration.
Tinubu is also expected to put in a word that America supports Nigeria to hold a free and fair election in 2015. It may be recalled that four years ago during the inauguration of President Obama, Tinubu also enjoyed a ring side seat at the event in Washington. Between that time and now, Tinubu's profile as a political gladiator and Nigeria's defector opposition voice has risen. His party has recorded political feats with big electoral victories.
His party, the Action Congress of Nigeria successfully sacked two PDP governments in the South West of Nigeria and presently, his party controls six states. He is one of the most courted and sought for Nigerian at home and abroad because of his grasp of politics and political administration. He is also credited with deep economic insights and policy grasp. The recent launch of his book in Chicago last week, titled-"Financialism-Water From An Empty Well" captures his deep understanding of the global political system and how it affects Nigeria.(sun)
Good for him