Crime News
Photos: 357,000 US Dollars Seized From Nigerian Business Man At Kaduna Airport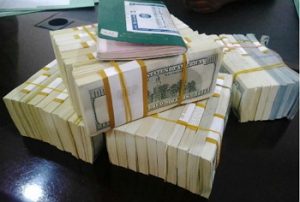 Nigeria Customs Service Intercepts $357,000 (US Dollars) From Business Man Travelling To Dubai From Kaduna Airport
A suspected smuggler was caught with a whopping sum of $357,000 USD at the Kaduna Int'l airport on Saturday as he embarked on a business trip to Dubai has been handed over to the EFCC.
The suspect Adamu Muhammad with international passport # A50280997 was transferred to EFCC, Kaduna Zonal office today two days after he couldn't account for how he got the money.
Adamu was about to board an Ethiopian Airline heading to Dubai when some Customs Officers discovered the money in his bag over the weekend.