Hot Gists
4 Igbinedion University Lecturers Die In Auto Crash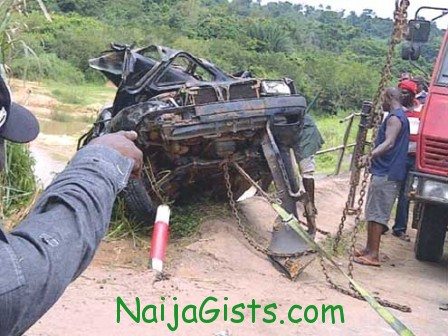 Sept 6, 2012 – 4 Igbinedion University Lecturers Die In Auto Crash
The 78th birthday anniversary celebration of business magnate and father of Lucky Igbinedion,  former governor of Edo State, Chief Gabriel Osawaru Igbinedion, assumed a disastrous dimension on Wednesday, as one of the vehicles in his entourage plunged into the Ovia River, killing the four occupants instantly. naijagists.com
The causalities, whose identities could not be ascertained at press time, were said to be lecturers at Igbinedion University, Okada.
They had travelled with Chief Igbinedion, the Esama of Benin Kingdom, who earlier in the day launched his Benin-based Independent Television into satellite for viewing in 104 countries.
They carnival-like train had left for the country-home of Igbinedion, Okada, after the event at the television station where another celebration took place, after which they returned to Benin City.
Disaster struck when the driver of one of the cars an Audi 80, in the convoy conveying the four lecturers lost control and plunged into the Ovia River, along the Benin-Ore Road, killing all the occupants instantly.
The incident has continued to raise speculations from members of the public in the ancient city of Benin who argue that mysterious deaths like that have trailed his birthday celebrations as long as they could remember.
Three years ago, during his birthday celebration, one of his staff allegedly had an accident an lost his life while running an errand for the Benin high chief.
Also last year, Omoregbe Okpenye (aka Bayo Ade), a musician who was entertaining his guest at his palatial residence in Benin during his 77th birthday celebration was suddenly kidnapped by unknown gunmen and later killed.
Calls made to the mobile phones of Professor Efosa Osaghae, Vice Chancellor of Igbinedion University and his Public Relations Officer were unsuccessful.(pm reports)