Crime News
4 UNIPORT Students Killed Were Cultists, Mafia Confraternity Cult Members On A Mission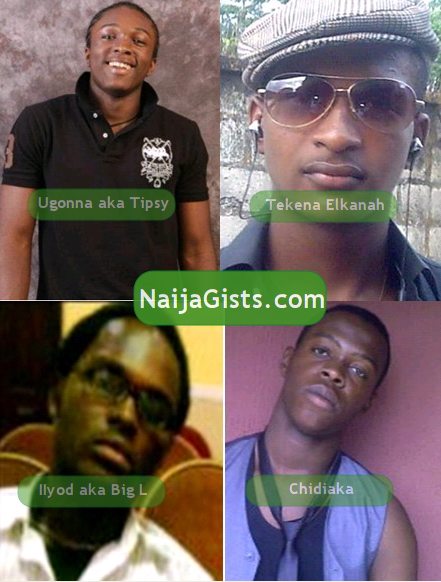 Oct 8, 2012 – 4 UNIPORT Students Killed Were Cultists, Mafia Confraternity Cult Members On A Mission
NaijaGists.com's investigation has revealed the true story behind the brutal murder of 4 University of Port Harcourt (UNIPORT) Students on Friday Oct 5, 2012. naijagists.com
Names , Identities Of 4 UNIPORT Students, Cultists Killed
The 4 Uniport students whose names are Ugonna aka Tipsy, Tekena Elkanah, Lloyd Aka Big L, Chidiaka are popular cultists and cult members of the Mafia Confraternity.
Photos Of 4 UNIPORT Students Killed (Burnt Alive In Aluu)

On Friday morning around 5:00 am, 5 students of the Mafia Confraternity cult embarked on a journey to Aluu village in Port-Harcourt on a mission to collect money from a student on behalf of one of their members.
On getting there, the guy told them he doesn't have any money.
After a series of argument, the armed cult members seized his laptop and blackberry.
As they exited his apartment, they guy yelled thief…. thief…
On hearing his yell, some member of the vigilante group protecting the robbers-terrorized community chased the 5 cult members.
One of them escaped while the 4 others were apprehended.
They were caught with the seized laptop and blackberry.
According to a source, Aluu Village in Port Harcourt has been plagued with frequent armed robbery operations in the past and that is why the vigilante group are always in operation to protect the community.
The vigilante group took the cultists to Aluu community leader to explain themselves.
After a bit of explanation, the leader found out that their story is untrue.
Since they were caught with blackberry and laptop belonging to a Aluu community member, their leader was convinced the cultists're armed robbers so he ordered them killed.
The 4 student were brutally murdered and burnt alive in Port-Harcourt on Friday.
For the past 24 hours, a very disturbing video footage of their killings have been circulating the internet. (Be Warned the video is very disturbing)
Aluu Community leader and 12 members of the vigilante group have been arrested in connection to their murder.
Whether they're cultists or not, justice must be served in this brutal killings.
Who authorized Aluu community leader to order these 4 students killed in this barbaric manner?
Why not hand them over to law enforcement officials?
Here is a message from the University of Port Harcourt Student:
I must say this to other students out there who are cultists and some who might be tempted to join. I am a final yr student in my school and I have been approached so many times by even friends I didn't expect to join them because of my physique but all I just say is 'NO!' and i feel so liberated the way I am. "there seemeth a way right to a man but the end thereof is destruction.." is a popular verse of the Holy bible… a food for thought to the young students.
A word of advice for students – BEWARE OF CULTISM.