Columns
"Abia Governor Theodore Orji's Ambition For 2015 Election Ends In Failure" – Odimegwu Onwumere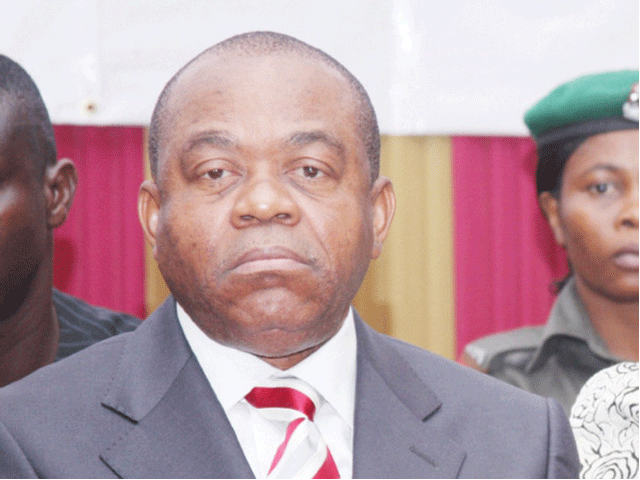 Sept 9, 2013 – "Governor Theodore Orji's Ambition For 2015 Election Ends In Failure" – Odimegwu Onwumere
By Odimegwu Onwumere
No matter the clattering of the government of Governor Theodore Ahamefule Orji about 2015, it will never be easy for it to impose its choice successor as the media is awash that people are holding-tightly to succeed him.
He was just successful in 2007, due to the awe-inspiring personality of Dr. Orji Uzor Kalu, who was a governor of the state that compelled the masses of Abia State to vote for him. In 2011, Gov. Orji won with executive aura. But in 2015, no matter his managerial position, our people are wiser.
Hardly did anyone believe that the electorates would vote and guide their votes in the 2011 elections; hardly did anybody believe that such number of electorates, as was experienced in 2011 elections, could be trendy; but they braved up, no matter what were experienced in certain quarters, where the old-stock-approach of intimidating people with security personnel were up-to-the-minute.
Governor Orji was declared the gubernatorial winner of the 2011 elections by the Independent National Electoral Commission, INEC, as against the views of people like Ochiagha Reagan Ufomba and Prince Paul Ikonne, who took to judicial redress, fingering excess irregularities in that election, having contested in different political parties, aside the Orji's PDP.
Following what has turned out to be the rob of good governance in Abia State under Gov. Orji, it is imperative to say that whoever Gov. Orji might anoint for the 2015 gubernatorial elections in Abia State would fail woefully. This is because our people will not like a repeat of Gov. T.A Orji in that state, which was once known as God's Own State, but has turned out to become Goons' Own State under him.
Our people didn't actually come out in 2011 to vote for Gov. Orji; he, rather, took the advantage of the overwhelming support of our people to President Goodluck Jonathan. Ndi-Abia did not want Gov. Orji in 2011, after his two-faced statement against Dr. Kalu in 2009 that the latter was a thorn in his neck that lame-ducked him not to perform in the first term.
Yet, we have not seen meaningful Infrastructure, Healthcare, qualitative Education, clean Environment, ubiquitous Security, Job Creation, Economy and Investment, booming Agriculture and Youth engagement, since he estranged homself from Kalu. Gov. Orji decamped from the Progressive Peoples Alliance, PPA, in 2010, under which platform he was elected governor, to pitch tent with the All Progressives Grand Alliance, APGA, and finally with the Peoples Democratic Party, PDP.
How can a man with this type of meandering behaviour be trusted again? And, since he came to the PDP, Gov. Orji would always tell those who care to listen to him that he regretted his first term.
Conversely, that regret has not abated. In his second term of office, he is defocused and confused and continued to give one excuse to another and promises of how he would make Abia State a Utopian state, which in all has turned out to be a mirage. It is hopeful that people like Kalu would be laughing at his onetime Chief of Staff (CoS), who has become the most-upsetting governor that Nigeria has ever produced.
As we know, a lazy man always quarrels with his tool. Gov. Orji has not given the Abia people the true meaning of democracy, but 2015 is now waterlogged on his ill-fated menu. He blamed godfatherism as his constrictions, but now that he has become his own godfather, there is no near limitation to mis-governance.
But come to think of it, if Gov. Orji is given beyond 2015, assuming it is constitutional, he would not do more than telling us how he was in bondage and all that crass that are only good for fairy tales or tales by moonlit.
Much as Gov. Orji has even confessed that he has not found being a governor easy, saying that as a governor instead of sitting down and planning for development, he is sitting down to plan on how to retain his seat. This invariably implies that once an election is lost, the purportedly loser should go and rest and wait for another time, instead of heading to the tribunal.
He would tell those that care to listen to him that the resources, both from the federation account and the internally generated revenue to do the job wasn't coming as expected. His lazy man's excuse was that what he met 'here' as IGR was N200- N250 million every month.
Much as we know, Dr. Kalu had said that he never left any debt for Theodore Orji as governor. Kalu declared that he wanted this to be on record that he left no debt the day he was leaving Umuahia as governor of Abia State. He said that he had heard people say that he owed banks N28 billion before he left.
Putting the story straight in an interview with a national daily on September 9 2012, Kalu said that his government was only banking with Hallmark. Hallmark stopped, and his government went over to Bank PHB. The day he left office, the account was N1.7 billion in overdraft, because the now ex-President Olusegun Obasanjo asked the Ministry of Finance to withhold the money. On June 6, 2007, the overdraft cleared.
Kalu had challenged detractors that the documents were there for anybody to verify. Kalu vowed that he never owed any bank money, which some people now say Abia State is repaying.
Since Kalu made that statement, neither the state government had challenged him nor the political demagogues that sing the praise of Orji. What the government has been bent on doing is to manufacture serial lies. This is why Gov. Orji will never find it easy in imposing any candidate against the wish of our people in 2015. Gov. Orji has to know that he is only popular in the media, but the grassroots churlish him.
Odimegwu Onwumere, a Poet/Writer, writes from Rivers State. Tel: +2348032552855. Email: apoet_25@yahoo.com