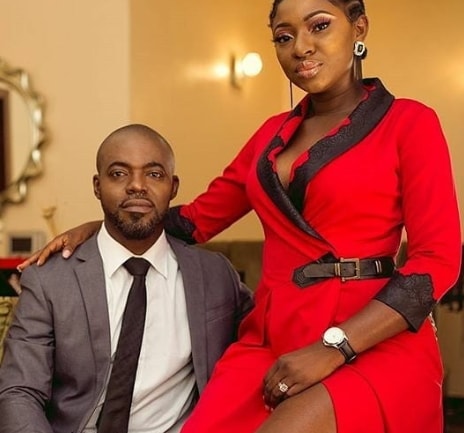 Abounce Kunle Fawole: I Met My Wife Yvonne Jegede On Tade Ogidan Movie Set…She Charmed Me With Her Beauty
See excerpts of ex-rapper Kunle Fawole aka Abounce recent chat with TS Weekend.
He is the husband of popular Nollywood actress Yvonne Jegede.
Tell us about growing up and the influence your late mum, Bukky Ajayi had on you?
Growing up with my mum was exciting. It would probably be the same with every other kid out there that grew up with their mums. There was a healthy balance of love, pampering and discipline. There was this air of humility that she bore; she wasn't about being a celebrity, and that is the same mentality I have grown to adopt.

It was with shock that the industry received news of her passing. How did you take it?
It was a very sad moment for me. She died in front of me. One thing I won't forget was my mother telling me to always pray and believe in myself.

What fond memories do you have of her?
I miss her dearly. I can't pick on one particular moment as my fondest. I think just having her as my mother was so much of a blessing. Sometimes I feel I didn't do enough for her.

We understand that you have veered into movies, what is happening to your music career?
It was a calculated decision to become an actor. There are a number of projects that should be out very soon. The music part of me is still alive and well but is on hold for now.

You are married to actress Yvonne Jegede. How did you meet and who made the first move?
My wife and I met on a Tade Ogidan set. She definitely caught my eye but we only had a friendly chat while we were on set. We didn't see for a while, and then one day, she walked into the late OJB Jezreel's studio where I was working at the time. Hell! Yeah, I made the first move (laughter).

Was it love at first sight?
Love at first sight? Nah. It was more like interest at first sight, I was very interested at second sight, and by the time we met, I knew I had to have her. What attracted me to her was her beauty. I must say my wife is very beautiful, and thanks to growing up with my mum. I was more interested in her person not just her fine face. She has a big heart. Before anything, our friendship is what keeps us together.
How did you pop the question?
I asked her to marry me on her birthday; I thought that would be a romantic gesture. I got her a birthday cake and another cake with 'marry me' on it (laughter).
Now that you are married, how many kids are you looking at?
The kids will come when they'll come.
OJB today remains an icon in the industry. What lessons did you learn from him?
Great soul! OJB was an icon who showed us how to be so big yet so humble. His death created a vacuum in the industry.
What projects are you working on currently?
There are two movie projects in the works but I can't speak on when they'll be out.
What has been your happiest moment as an entertainer?
It will be when I got my nomination for Best Upcoming Actor at AMAA 2008; the recognition was a blast for me.
What would you say has been your saddest moment?
I can't say for sure that I have had a sad moment. There have been disappointments and all, but it all comes with the terrain, I guess.
Any regret?
None so far. I try not to have any regret in life.