Hot Gists
"Acting Exposes Nigerian Actors To Spiritual Attacks"- Jude Orhorha Urges Upcoming Nollywood Actors To Pray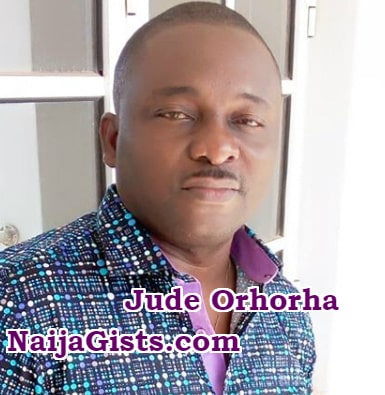 "Acting Exposes Nigerian Actors To Spiritual Attacks"- Jude Orhorha Urges Upcoming Nollywood Actors To Pray
Popular Nollywood actor Jude Orhorha in this chat with Tony Okuyeme talks about his take on politics, childhood, career and homosexuals in the Nollywood movie industry.
See excerpts:
What are you doing presently outside the industry?

Outside acting, I anchor social events, I do voice-over, manage events, produce, and presently work with TSTV as the channel manager for Grande Comedy Channel.

If you didn't go into acting, what would you have done?

If I'm not into acting in Nigeria, then maybe I will be into writing of stories… (He laughs)

In a previous interview which was published on August 5, 2017, you were quoted to have said that most Nigerian actors are gays, gigolos, and that you were approached by cougars and gays in the industry severally. Is it true?

Yes. I've had some experience on the issue of gays.

What happened?

I was invited for a gig at a friend's house somewhere in Sabo area of Lagos and to my greatest surprise they were all guys and they had female names. It was so irritating. One of them approached me and of course, I gave a stern warning and walked off.

You were a member of the then Centre for Cultural Studies, University of Lagos. How did this affect your career as an artiste?

My stay at the Centre for Cultural Studies was a memorable one. I learnt a lot about being a method actor. Although it wasn't easy, but with determination and a sense of belonging through the support of the Late Dr. Bode Osanyin, I was able to make it. May I at this point thank those who tolerated me then. The likes of Prof Duro Oni, Moji Bamtefa, Prof. Segun Ojewuyi, Mr. Shina Odukoya, Mr. Sanni Babatunde, Mr. Amos Oguntokun, Mr. Umeh, Mr. Olu, Mr. Chris Onuora etc, the list is endless.

Who is Jude Orhorha?

He is a Nigerian born Actor from Delta State.

What are some of the lessons life has taught you over the years?

Over the years I've learnt that the person you're taking the bullet for might just be the one behind the trigger.

What inspired you into acting?

The people around me and life experiences inspired me into acting.
Have you been embarrassed?
I've ALWAYS been embarrassed, even till tomorrow over my character as Gbenro in the rested TV soap and sitcom "Checkmate" and "Fuji House of Commotion".
Any regrets?
No regrets whatsoever
You were part of Fuji House of Commotion. How did get the role?
And how has it influenced your career? I started playing the role of Gbenro right from Checkmate in 1990. I was called for a closed-door audition, and I was asked by the late Mrs. Amaka Igwe, then Amaka Ene Isaac, she gave a scenario to act as deaf and mute. She actually came to watch a stage performance titled "Woza Albert" at PEC Theatre, Onikan, Lagos, in 1990, it starred Tunde Euba and my humble self. After the show she sent for me and Tunde to visit their office on Sanusi Fafunwa Street,Victoria Island, Lagos. Of course the rest is history.
You celebrated your wedding anniversary recently. How has it been as a married man for 11 years now?
It's been a rough road but with understanding, wisdom and fear of God we've been able to pull through.
How did you meet your wife, Efe, who is also a thespian?
We met in 1993 at a stage rehearsals in PEC Repertory Theatre, during a drama festival.
How was your growing up like?
I grew up in a polygamous family, although I lived all my life with my mum who's a retired teacher. So I spend some of my holidays with my Dad and siblings as well but it wasn't all a bed of roses because we had our differences. I also loved watching movies, series and drama while growing because I had access to such as a kid at that time.
What fond memories do you have of childhood?
I remember my first time in a swimming pool at d age of 7; that was in 1977. It was fun and also frightening for me. However at that period swimming pool was for the super rich and I had the privilege then because one of my uncles had it. Going to the house was a thing of joy for me.
What are your plans for the future?
My plan is to run an NGO that caters for the elderly.
What advice do you have for the upcoming artistes?
For the up-and-coming artistes, I will say that they should be focused and not get distracted. They should also PRAY because our profession exposes us to a lot of spiritual attacks.
What will you say to your fans?
I will like to thank my fans and say that I appreciate the vote of confidence, and promise to keep doing what I know how to do best.
Would you consider going into politics?
Politics is not for me now; maybe later.