Crime News
Angry Police Inspector Sets Wife Ablaze In Lagos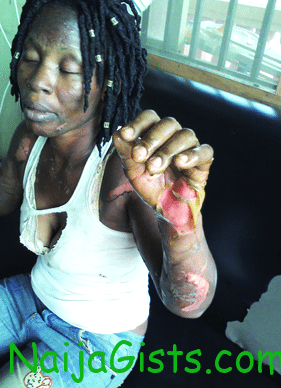 Augustina in pain
March 25, 2012 – Angry Police Inspector Sets Wife Ablaze In Lagos
This sad episode took place in Lagos on Friday night between the 2 couple.
Apparently, the marriage has been marred by trouble for the past two years.
The husband, Wasiu Jimoh from Kwara state got married to his now burnt wife Augustina who hails from Anambra state few years back.
How The Trouble Started
Area residents of 7 Tunde Lawal Street, Okokomaiko, woke up on Friday to witness a more dangerous fight between the couple said to be notorious for constantly quarreling.
According to Augustina, trouble started on Thursday when she reported to the husband that a certain lady sent her an irritating text massage warning her to leave Wasiu alone, claiming that the police officer was her man.
The victim, who claimed that her husband had the habit of keeping relationship with other women, said Inspector Jimoh flared up and started beating her. On Friday morning, he reportedly told her that since she was stubborn, he was going to deal with her.
She also claimed that he had constantly quarreled with her over her demand for feeding money, adding that he frequently assaults her on the slightest provocation.According to the victim, as he was pounding her, a neighbor came to her rescue and facilitated her escape to another neighbour's kitchen, who was cooking at that time, only for the husband to rush in and emptied a gallon of fuel upon her by the fire place.
But police officer, said to be serving at the Ifako Police Station, Bariga, told the doctor that it was his wife that was bearing the keg of fuel in her hand as she made her escape into the neighbour's kitchen. Unfortunately, he explained, the fuel exploded upon her leaving the whole place on fire.
When our correspondent visited the couple's residence, neighbors talked about the incident in hushed tones as if all were mindful of an uncertain fate that might befall them if they said anything. Sunday Sun gathered that the victim was the fifth woman in the officer's home, as four other women that lived with him had ran away for their dear lives. A reliable source disclosed that his first wife escaped when she realized that the man was like a time bomb that could explode on her. She is said to be presently living abroad.
It was gathered that until Augustina came, no woman could live with Jimoh. But the victim, according to a close associate of the husband, believed she could change the man for good.
Augustina's shocker
Asked if she would return to the marriage after her ordeal, Augustina reluctantly told our correspondent that she would wait for her family's decision. According to her, she cannot give a definite response until she had heard from her family and that her mind was not made up.
Our correspondent also gathered that when the incident happened, the woman ran to her Pentecostal church pastor to show him what was left of her burnt skin before the pastor instructed her to proceed to the hospital for medical intervention. Her decision to rush to her pastor, it was explained, was because the man of God had been advising her to pray that the man could change since there is no situation too difficult for God to handle.
The woman has however appealed for assistance from government and non-governmental organizations.
The police officer was arrested on Friday but it was gathered that he had been granted conditional bail at press time.(credit: Sun News)