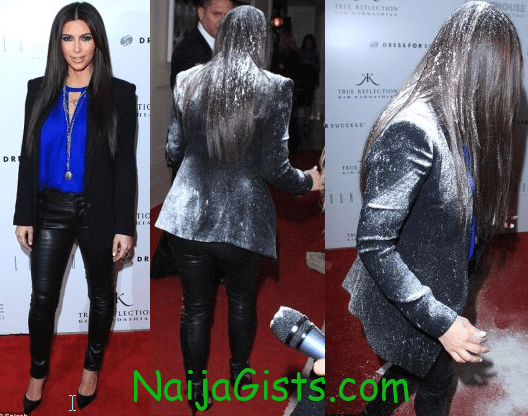 March 23, 2012 – Kim Kardashian Humiliated, Flour-Bombed By PETA Supporter
This shameful episode took place on Friday evening when an Asian woman (name not released) pour cooking flour on reality TV star, Kim Kardashian at a celebrity red carpet event in Los Angeles.
The woman in question was arrested but no charges were laid after Kim decided not to press charges.
The Asian woman was a supporter of PETA. Watch the video below
Video: Kim Kardashian Flour Bombed in LA
httpv://www.youtube.com/watch?v=feCtZ0zlCfA
Below is the what shocked Kim told E! Online
That probably is the craziest, unexpected, weird thing that ever happened to me. Like I said to my makeup artist, I wanted more powder and that's a whole lot of translucent powder right there.