Crime News
Armed Robbery Attacks In Agege Lagos: Two Cops & 7 Others Killed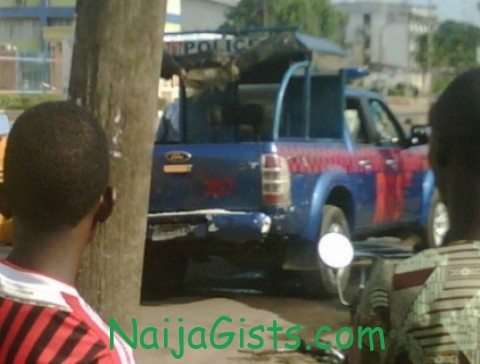 Sept 9, 2012 – Armed Robbery Attacks In Agege Lagos: 2 Policemen & 7 Others Killed
Several armed robbers who went on rampage on Sunday afternoon in Agege, Lagos State Nigeria have killed 9 people which includes 2 policemen and 7 other people. naijagists.com
According to Tayo Adeyeri, an eyewitness of the robbery, the robbers drove in 2 SUVs(a Toyota Prado and Armada).
The armed robbers attacked a bureau de change at Agege in Lagos where several currency changers were killed. They carted away 2 bags containing foreign and local currencies in millions.
The survivors of this brutal attack were taken to Motolani Medical Centre in Alfa Nla, Oke-Koto, Agege Lagos for medical treatment.
A stray bullet hit a grandma in the forehead while watching TV in the house at #15 Alfa Nla Agege. A 6-year old girl was also hit in the eye at the same spot.
A stray bullet also hit a parked Volvo ambulance with registratyion number HL 355 AAA belonging to Motolani Medical Centre, and shattered the back winshield.
The robbers numbering eight, including two women who were driving the the SUVs, started their operation at about 10:35 a.m. from Ifako-Gbagada, Oshodi, Mile 2 and Agege.
Lagos Rapid Response Squad caught up with the robbers at Guinness bus stop around Oba Akran Avenue in Ikeja Lagos.
The robbers then engaged the policemen in gun battle.
2 Police officers were left dead as the robbers escaped with their loot.
The two police officers whose identity are still unknown were seen on the spot in a pool of blood.
Two LASTMA Officials were also shot in Oshodi and a police man was brutally wounded at Ifako Gbagada area of Lagos
Today is a bloody Sunday in several parts of Lagos State Nigeria.