Columns
Is Atiku Abubakar A Cameroonian Or Nigerian? Read Abuja Lawyer Mike Kebonkwu Opinion Piece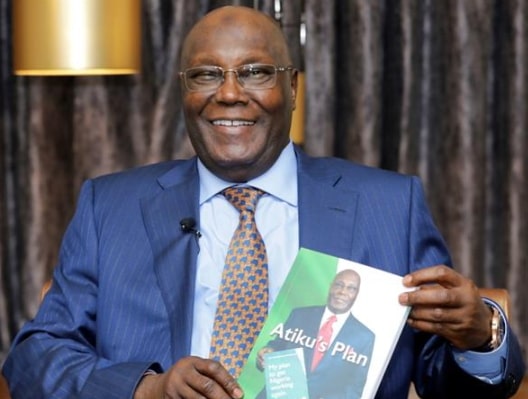 Is Atiku Abubakar A Cameroonian Or Nigerian? Read Abuja Lawyer Mike Kebonkwu Opinion Piece
By Mike Kebonkwu
There is an interesting discourse trending on Alhaj Atiku Abubakar's Cameroonian nationality and his legal capacity to contest as the president of the federal republic not being a citizen of Nigeria. Some of the views are as interesting as they are bizarre, especially those laced with legal pedantism. Nigeria like many other African countries is product of the European conquest with arbitrary boundary demarcation without consideration of cultural and linguistic affinities of the indigenous communities. Our boundaries and demography in most African countries remain fluid as homogeneous communities and languages are forcefully put at different sides of the borders by colonial conquest.
Indeed, no national boundary the world over has an iron cast demarcation; they are fluid in demographic inter-mix of population and citizenship. Our geographical boundaries are fairly well known but may not be properly defined with mathematical exactitude. Notwithstanding, the identity of who a Nigerian citizen is should not be a subject of controversy. Countries are gravitating towards unification and abolition of boundaries with integrated political economy. Interestingly, Africa has since joined the league when it dropped the toga of the Organization of African Unity (OAU) for African Union (AU) aping and mimicking the European Union. While our leaders parrot regional integration, free movement and same currency they are inciting xenophobic hatred and resentment against citizens of other nationalities and causing divisions at home; as we find in South Africa, Libya and lately Ghana to mention but a few.
What is this whole argument about Atiku's citizenship and eligibility to contest for the highest office in Nigeria about? Why is it coming now? I do not want to join the asinine definition and legalism of who a Nigerian citizen is in the context of whether some communities became part of Nigeria due to unregistered plebiscite that was conducted by the United Nations in 1961 or of grandparents being from communities indigenous to Nigeria.
The argument of whose grandparents are members of communities indigenous to Nigeria is certainly going to throw up a debate where no one can qualify as a Nigerian citizen in the main. Anybody whose community is within the territorial jurisdiction of Nigeria by whatever means qualifies as a Nigerian citizen. This is so because Nigeria itself as a country is an accident of history and product of historical design of British colonialism. It may be a sweet legal argument eliciting rabble fireworks without patriotic fervour of nation building to want to strip another of citizenship on political partisanship. We have travelled this road before when for political expediency, a citizen, Alhaji Shugaba Darma was forcefully deported during the Second Republic. The difference today is the fact that unlike in the 1980s, we do not have a judiciary that is populated with cerebral eggheads and philosophical jurists with limitless courage and appetite to speak truth to power.
I do not know what chances the PDP presidential candidate in the just concluded election would be at the tribunal in terms of concrete and verifiable facts that would make the court decide in his favour. Argument of nationality or citizenship of Alhaji Atiku is not only offensive but repugnant to social justice equity and good conscience. It is not a unifying legal argument to build a democracy and enhance the rule of law. It is diversionary and should not be pursued on the altar of political expediency because the echo of it will be so deafening and will have a toxic effect on our unity as a nation.
It is also offensive in the extreme to common sense and historical logic to say that someone who was born in a territory within Nigeria whatever the colonial boundaries and demarcations, is not qualified as a citizen to run for an election. Atiku Abubakar worked in the public service of this country in a very sensitive appointment, retired into private life, have businesses across the length and breadth of Nigeria, was elected the governor of a Adamawa State and became the Vice President of Nigeria and yet someone finds its attractive to argue that he is not a citizen of Nigeria at this point; that is balderdash.
If we are to hold this argument as correct, God forbid, I am afraid nobody in any community in present day Nigeria can lay claim to Nigerian citizenship and nationality. The whole swathe of land in northern Nigeria from Katsina, Kano Sokoto and all the areas along the Sahel belt are immigrants from Mali and Senegal, all formerly of Songhai Empire. The same is also true of the Esan man from Agenegbode in Edo State whose ancestors are either from Kano or Sokoto State; he cannot qualify as a Nigerian citizen. I am also aware that the Igbo from the Southeast lay claim to Israel as their root which they have tried to find the historical link and ancestry. Some communities in the in the middle belt oral tradition has it that their progenitors and ancestral root are from the Congo River and the Great Lakes Region.
We should perish the citizenship argument and distraction of the political elite and wrestler power from the locust that have laid waste our land. The legal team of the ruling party and indeed the leadership of the party should be a little bit reflective and display some measure of civility in the use and exercise of power and the employment of the coercive apparatus of the state for political ends. The last general elections could past as the worst election in Nigeria in all ramifications.
Electoral violence and ballot heist were elevated to a state craft and the security forces became discredited as a result of its direct involvement in the manipulation of electoral fraud. We cannot afford to be championing regional integration and be expelling citizens in the name of not belonging to an indigenous community to Nigeria. If there is litigation on the credibility of the last election, it should be fought on the basis of verifiable facts before the tribunal not on the inane and barren argument of citizenship.
About the author: Kebonkwu is an Abuja-based attorney.
Follow NaijaGists.com on Facebook and Twitter.