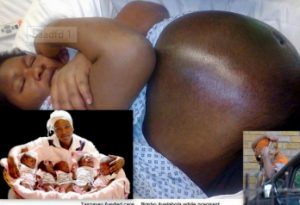 July 2nd, 2011 – Bimbo Ayelabola, Nigerian Mother Of Quintuplets Battles To Stay Permanently in The UK
The struggle between sympathy and laid down rules is currently raging between the British Home Office and Bimbo Ayelabola, a Nigerian mother of quintuplets over her extended stay in the United Kingdom despite the fact that she is a visitor.
Bimbo Ayelabola, Thirty-three, was reported to have taken a fertility drug (Clomid) overdose in order to aid conception after losing her very first pregnancy. As soon as she found out she was pregnant, the woman relocated to the United kingdom to be able to take the needed rest outside of the hustling and bustling of Lagos.
On getting to the United Kingdom, she underwent a scan which revealed she was expecting 4 babies in the first instance before it was discovered later during the baby delivery that there is a 5th baby. Hence, she was put on an emergency National Health Scheme (NHS) program which has depleted the scheme's purse to the tune of £200,000 ($320,000) till now.
Bimbo's husband, Ohi, was reported to have visited her and the babies in London when she put to bed. He disappeared altogether when he saw the fact on ground.
Now the Home Office is faced with the dilemma of granting the mother of five an extension to stay in the UK based on her claim that she does not have any support system to help her care for her babies back home in Nigeria.
NHS officials are said to be considering sending her a bill for the huge cost of her six months of care which included treatment by consultants, pediatricians, nurses, midwives, social workers and back-up staff claiming she was put on the emergency scheme to save her life and that of the babies as she is not entitled to enjoy the benefits for free.
Reacting to the media buzz about the issue, Home Office Spokesman said: "The NHS is a national health service, not an international one. We expect those with no right to be in the UK to leave. Otherwise we will remove them."
While Conservative MP Chris Skidmore said: "It's not acceptable for health tourism to continue in the way it has done."
Nigerian government need to watch the influx of unregulated drugs into the country. No country should be selling those kinds of drugs without proper prescriptions and regulations. Even if she is allowed an extension in the UK, she will still continue to be a burden on the purse of the government as she is even struggling to cope with taking care of the kids whose upkeep is put at £350 ($560) per week.