Entertainment News
Bose Aregbesola Talks About New Movie, Says Segun Ogungbe Discovered Her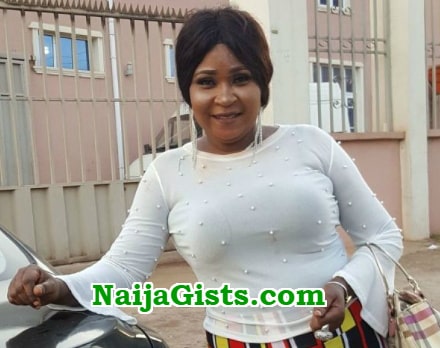 Bose Aregbesola Talks About New Movie 'Jomiloju Olorun', Says Segun Ogungbe Discovered Her
Excerpt of Nollywood actress Bose Aregbesola new interview with The Nation creative reporter, Victor Akande
You have been in the industry for quite a while, what would you say has kept you going?

One of the challenges then was getting to location and waiting for a long period and at the end of the day, you pick your luggage and leave the set because you were not getting any attention.

Another is failed promises by some ogas, who would have promised you lead roles but at the end, they would give the role to someone else. At that point, you would start meditating and asking when it would get to your turn to become a known voice and face.

Would you say you have achieved your dream?

I would not say I am where I want to be, but I can say that I am one of the faces that are still reckoned with in the Yoruba movie industry till date.

I have been in the industry for a while now, I have paid my dues. I started paying my dues long time ago. It began from the time when I started the work of art just for the passion.

Money was not the main thing then, we just wanted to do what we felt would make us happy.

When I started, I was one of the actors that were easily accepted by people because of my character and way of interpreting roles given to me then, and I was also lucky to have people who saw the skills in me and came together to push my career.

I am thankful today that I am known with this job and it is also what I have been using to take care of myself.

Aside acting, do you have other jobs?

Yes! I read Catering and Hotel Management. It is something that I do on a regular basis as long as it does not coincide with my schedules for roles.

I have people that call on me because of the past relationship that I have built with them over the years by delivering what they want as a caterer.

There was a period that I was into delivering of cakes. I was always having orders. But now it is on hold because of time. In my catering business, I have people I employed to work with me. Whenever I have order, I do call and instruct them on what to do and who to deliver to.

But many have made name with catering, why not a career in that area?

That is true, I have interest in the catering and management career, which I intend to make big when the time comes.
But let's not forget that to make a successful business, one needs finance, that is why I am still putting that aside now, and concentrating more on my acting career at the moment. But at the end of the day, that is what I will fall back on.
Any work at hand at the moment?
The last work I produced was Jomiloju, and I can say the feedback was quite encouraging. I am not someone who rushes into movie production, and that is the reason I take my time to produce my movies.
Jomiloju Movie Trailer
But I am putting some work together that will soon go into production. The reason I am still putting it on hold is to enable me put all I need together for a successful production.
As a producer, what discourages you from pushing works out?
Piracy. This is one thing that needs to be tackled seriously to enable us have a profitable career and production.
Most people do not want to produce anymore because before you get your work to the marketer, it is already seen mass produced and being sold at a ridiculous prices.
In the past, when you produce a movie with a certain amount, you already know how much the marketer will buy it from you, and how much they make after is none of your business. But now it is not so, because the marketer too does not want to run at loss.
Piracy has killed our job, but the reason some of us keep producing is to maintain our brand, because your fans need to keep seeing you.
Does an actress have to sleep with a producer for her career to blossom?
It depends on individuals and what you wanted from the very beginning of your career. For me, it is my handiwork that brought me to where I am today.
I started with stage, that was before I started home movies and that was when people already picked interest in me and that was how my bosses then in Abeokuta came together to push me to be a brand to be known as part of the caucus of Abeokuta. You can see that my own story is different from those who already have at the back of their mind that they are ready to sleep their way into becoming a known face or brand.
I also want to make a point that it is not all the report that we hear about our ladies sleeping their way to fame that is true. Some of these ladies work hard to get to where they are today and should be given accolades for their hard works.
Some of them hustle to get money they used in producing their movies, and need not sleep with any top shots to get finances for their production and payment of cast too.
My story is just different because back then we usually have artistes' night which is done on stage. Segun Ogungbe is one of the people who looked out for me then and focused on me. It was not as if he had money then, but all he had he poured it on me and saw the need to build my brand.
Is it mandatory for actors to be part of a caucus?
It is not mandatory, but it is necessary. It helps one to feel safe and secured. It is a set of people that come together to form the caucus. And if there is like 10 producers in a group, you are assured that you will be in all the movies. That way, you keep moving and your face does not fade out. The main aim is to help promote one another.
What about the stories that you ladies live fake expensive lifestyle?
Please for someone that has been working in this industry for 30years and buys a very big and expensive car; is it not worth it and to be celebrated? I know those that have spent years on this job, I pray that we are not in a line of job that will not earn us praises from people.
The reason it is seen that way is because our ladies are believed not to be earning enough pay in this job to earn them such lifestyle. But it is not so with all of us.
In your own case, has this job earned you a luxurious lifestyle?
I am not a noisy person and do not go out of my way to do what people want or expect of me.
I do what makes me happy and what I feel is right. I do not dress too expensively and want people to see me. I am happily married with kids and not married to a billionaire, but I am not hungry and I buy whatever I want.
If you are on set, how do you take care of you kids?
My hubby understands my work and we met on this job and he loves what I do. I have family members around who handle them for me. My parents are in Abeokuta and most the time when I am on set, they are with them. Sometimes, my hubby goes to see them and if he wants them home, he takes them and returns them.
What extra mile do you go to look good?
That is something that we can not do without because on this job people expect some certain things from you. It depends on how heavy your pocket is too. But for me, I look simple and wear something that when people see, they will appreciate as a star. I do not follow in other's step.