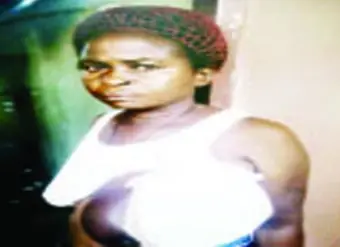 By Sunny Nwankwo, The Nation
A breast cancer patient, Mrs. Tina Agnes Aka has sent a passionate appeal to Nigerians to help save her from her ordeal.
The woman hails from Guma LGA of Benue State but is an outpatient of Nigerian Christian Hospital, Nlagu in Obingwa Local Government Area of Abia State.
Aka was in pains and in tears as she spoke to our reporter surrounded by her relatives.
She said she needs N500,000 to have the affected breast surgically removed by a team of medical experts visiting the hospital this month. Failing to come up with the money, she would have to endure the agony for the next three months when the surgeons are expected back in the hospital, and will still pay that sum.
The 50-year-old widow and farmer, whose farms and home were burnt down by herdsmen who ransacked their village, said that life has been harsh on her and her children who now live on charity from individual donors and non-governmental organisations who donate relief materials in one of the Internally Displaced Persons (IDP) camps in their area.
The beginning of her troubles
"It started when I noticed some rashes on my breast which came with pain," Aka narrated. "I told some persons about it because it was strange to me. At first, I thought it was a spiritual attack and when I noticed it was not, I was taken to a herbal home where the situation grew worse.
"It was from the herbal home that I was now moved to Nlagu by my in-law who is residing in Aba. It was at Nlagu that I was told that I had cancer of the breast where I was told that the best thing that they can do is to cut off the affected breast to avoid it going over to the next one."
Mrs. Agnes, told our reporter that she would have sold some portion of her family's lands to treat herself but herdsmen have sacked their community, and the residents haven't been able to farm or even go back to their village.
Agnes said that she has been told about the love the wife of Abia State governor and her husband, Okezie Ikpeazu have been showing to patients at the hospital and begged them to show mercy on her.
She called on her state governor, Ortom to come to her rescue, stressing that she would want to reunite with her children at the IDP camp near their village who are still there without her supervision.
A medical report by a consultant pathologist, Dr. C. O. Onwuka of Surepath Pathology Consultants of No.3 Akpa Ube Close, Uyo, Akwa Ibom State, carried out on Agnes on July 14, 2017, confirmed that she has cancer of the breast.
According to the report, Agnes would require three courses of Chemotherapy and actual surgery that would result in the removal of the ruptured breast.
Her son, Joshua corroborating his mother's account, said that the affected breast ripped open after his mother drank a concoction mixed by the herbalist whom they had deposited N30, 000 with out of the N50,000 he had charged to heal her.
He told our reporter that caring for his mother with her health condition has not been easy with the family and their in-law in whose house at Alaoji in Obingwa LGA they have been taking refuge over one year.
He disclosed that his mum in the last one year or more can only eat noodles, pap, yoghurt and bean cake (akara) and would vomit anytime she tries to eat solid food.
To reach Tina Aka, call 08079484000, and for your donations, her account number is 3124097527 (First Bank Plc).
To contact the team of doctors, call Dr. Brain Camazine (Chief Surgeon) on +12547180659 (USA), 07038459683 (Nigeria).e-mail; briancamazine@gmail.com or Dr. Jumbo (Chief Medical Director) 08038986345.