Nollywood
Naturally, Canadians Are About The Nicest People In The World Just Like Nigerians – Amanda Ebeye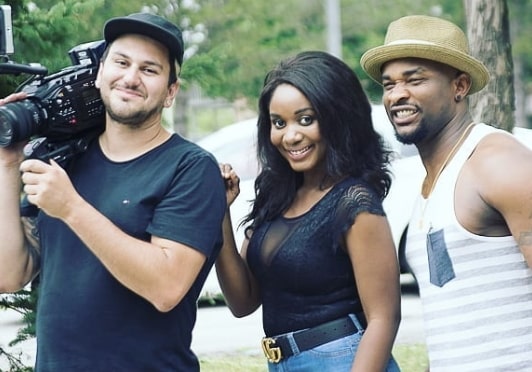 Nollywood Actress Amanda Ebeye To Single Mothers "A Child Is Not A Hindrance To Your Success"
Naturally, Canadians Are About The Nicest People In The World Just Like Nigerians – Amanda Ebeye
Top actress Amanda Ebeye recently made her debut as a movie director with the release of her first movie titled 'Horrors'.

While sharing the inspiration behind the film in a chat with Potpourri, Ebeye revealed how she got inspiration for the storyline of the movie while pregnant.
"The story came to me while I was pregnant and I started developing it once I got in to school. I actually went to school to learn how to make that film.

'Horrors' tells the story of a single mother; it encourages single mothers that think a child is a hindrance to their success.

A lot of single mums feel regret or hate towards their children because it did not work out between them and their spouses, and that's extremely wrong because this is a child that knows nothing; did not force himself or herself to be born through you. The child has no duty to love you; it's your duty to love. So any irritation towards the child affects the child negatively.

Who says you cannot have your child and be what you desire to be? A child is not your hindrance, the man is not your hindrance, you are", she noted.

Speaking further, she basked in the reception she enjoyed while filming the movie in Canada.
"It was amazing filming 'Horrors' in Canada. Naturally, Canadians are about the nicest people in the world, and just like Nigerians, Canadians are receptive to filmmakers; so making 'Horrors' in Canada was beautiful.
From the owners of the locations we used, to the cast and crew, to the people that passed by us on the road and cheered us on.
"Power supply was available 24-hours, so there was no black out, sound issues or generator noise. As my first film I more than enjoyed directing it; and yes, I would love to do it again.
I cannot wait to direct my next job in Canada," she gushed.
On why she opted for a short film, instead of joining the trend to make feature cinema movie, the Delta State born screen star said; "Horrors was developed by myself and my script writing instructor when I was in film school.
I conceived the story while pregnant and when I started plotting, I developed it as a short, It was best as a short and I decided to leave it that way rather than add unnecessary scenes that'll force it into a feature length that would have ended up being watery.
Directed by Amanda Ebeye and KC Muels, 'Horrors' features Amanda Ebeye, Laura Stoica, Katherine Curci, Martin Huss, and KC Muels.
Follow NaijaGists.com on Facebook and Twitter.