Crime News
Christian Man Arrested As He Tries To Board Hajj Flight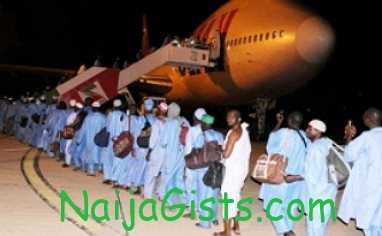 Oct 1st, 2012 – Christian Man Arrested As He Tries To Board Hajj Flight
Lohnan Joseph, a 29-yr old teacher from Plateau state has been arrested while trying to board a flight to Saudi Arabia at Sokoto Int'l Airport. naijagists.com
Joseph, a Christian who was arrested on Sunday said the following:
"I am a Nigerian. I don't believe in discrimination, whether you are a christian or Muslim".
According to Zamfara Commissioner For Environment, Mr Lugga, Joseph came out of nowhere to join the line during the screening process.
"He was easily identified as an alien among them because he was not
wearing the uniform. This was what drew our attention to him and we
quickly notified the police who came and picked him up for
interrogation." said Lugga

Joseph also said he wanted to be like Herbert Macaulay, whom he read, had travelled to London amidst difficulties.
Joseph also said that his mission was not to travel but only to visit the airport and come back.
While parading the suspect, Sokoto state Commissioner of Police,
Alhaji Shu'aibu Gambo, said the suspect was intercepted at around 9 a.m, as he attempted to join the screening line of Zamfara pilgrims.
Gambo said that Joseph had said at his interrogation that he wanted
to go to London and had mentioned names of some people as his
accomplices. (NaN)
In search for greener pasture lol.