Crime News
Commercial Drivers Protest Against Police Extortion in Abuja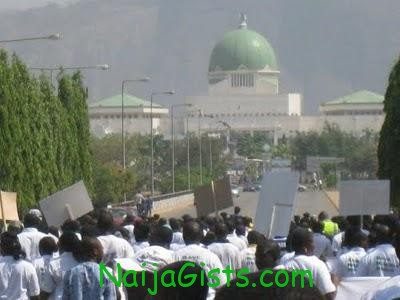 Dec 1st, 2011 – Commercial Drivers Protest Against Police Extortion in Abuja
The commercial drivers in Abuja,on Thursday,protested against what they called excessive police extortion, brutality and harassment in different areas of the city especially at Wuse market.
Traffic along the Wuse market and Zone 4 areas of the metropolis stood still as the commercial drivers blocked the road andmade passengers disembark from vehicles to force their colleagues join in the protest.
The protest is regarded as the climax of a cold war going on between the police and the commercial drivers who accuse the formerof victimisation and extortion.
According to Victor Azu, one of the drivers, "anytime we park for passengers to enter or come down from the motor, these policemen will just jump inside our bus and arrest us of illegal parking. Then they will either collect your car stereo or pull your plate number or you pay a fine of about N3000."
"The worse thing be say them nor go control traffic well oh, but them go hide for places and all of a sudden run out to arrest us even when you park for authorised bus stop, them go say you nor park well," Godwin Agaba, another commercial driver said.
But according to an eyewitness, Stella Nkpa, the protest started when the commercial buses blocked a mobile police convoy.
"The buses that were loading blocked some mopol convoy that was coming from behind and as the mopol people were trying to clear the road by forcing the drivers to move, they had problem with one of the drivers. What we later heard again was a gun shot and one boy was shot on the leg and later rushed to the hospital," she said.
"After then, the drivers started protesting and blocking the road."
Commuters had serious difficulty passing through the Zone 4 Wuse market axis although private vehicles were not disturbed during the protest.
A lotof policemen were later dispatched to the scene to restore peace and order, even as the commercial drivers said they wanted the FCT police command to come and address them on the issue.
The FCT police command public relations officer, Jimoh Moshood confirmed the incident andsaid the allegations will be looked into and addressed appropriately.
Meanwhile, the protesting drivers said they also want the Federal Capital Development Administration to build an effective bus terminal where they can comfortably pick and drop their passengers to avoid future clashes with the police.
Nigeria needs nothing but revolution.