Crime News
Confession Of White Garment, C&S Prophet Who Beheads Church Member, Buries Corpse At Altar In Ewekoro Ogun State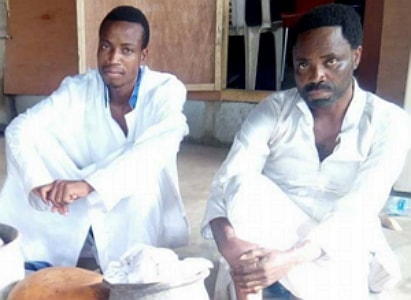 Cherubim & Seraphim Prophets Behead Church Member, Bury Corpse At Altar At Elebute Ewekoro Ogun State
The two prophets arrested for the brutal murder of a mother of five and buried her headless body in a church altar in Ogun state have began to spill the bean. While the randy prophet, whose church the victim was a member, and where she was also killed like a sacrificial lamb, claimed he was nescient of the whole ugly episode, and accused his accomplice of complicity, the later on his part denied knowledge of the incident.
Tobiloba Ipinse, 37, founder of Holy Garden Christian Evangelical Church, a branch of Cherubim and Seraphim at Elebute area of Ewekoro, and the victim's lover accused Shopeju Daniel, 42, of Oba Onimajemu, also a Cherubim and Seraphim, at Egbado Junction, Itori, of masterminding the evil act.
Tobiloba, however, affirmed that the killing actually took place in his presence.
Hear him:
"I was in my room on that fateful Wednesday when someone came to call me at about 10:00 pm, saying some people were waiting to see me in the church. On getting there, I saw Shopeju with seven other people, including a woman, all in black and red apparel. To my surprise, I saw Raliat Sanni in their midst. Her hands were tied, and she had a mask on her head. Shopeju was holding a knife I knew was not an ordinary one.
"The next that happened was that, they laid her on the ground like a ram and Shopeju slaughtered her. Each of the seven other people collected Raliat's blood in the calabash they all held. Shopeju then severed her head and palms. I demanded from him what they would do with the remaining body. At that instance, he told me to go back to my room. That was how I left them and went back inside.
"The following morning, I went into the church and noticed a portion with fresh sand, removed the surface sand and saw the corpse. I then covered it back. Three days after, on Sunday, police men came to arrest me", Tobiloba stated to Crimepuzzle reporter.
Shopeju, on his own part, said "I got to know Tobiloba in December, 2017, when brought to me by one TK, for prayer. Then, I didn't know him as a prophet until February when he invited me to his church anniversary. Since then, I did not set my eyes on him until I was arrested for allegedly leading some people to his church to commit the said abomination".
Crimepuzzle's efforts to speak with the deceased Raliat relation yielded fruit as her elder brother, Saheed Adebola said, "The late Raliat is survived by aged parents, five biological and three adopted children. As the breadwinner of the family, a beautician by profession, who also sold drinks, she adopted her late sister's three children. Our mother is 70-years of age.
[Report By Crime Puzzle, Punch NG]