Hot Gists
CPC Lawyer Killed By Falling Tree In Niger State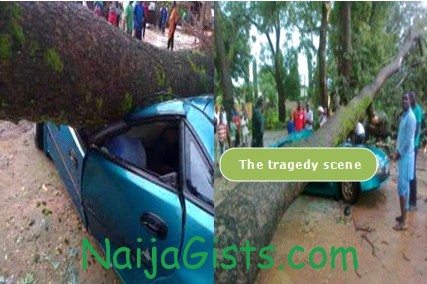 Sept 10, 2012 – CPC Lawyer Killed By Falling Tree In Niger State
This natural disaster happened on the 6th of Sept, 2012 during a very heavy rainfall in Minna, Niger State, Nigeria. A falling tree caused by the heavy storm crushed the car of Congress for Progressive Change (CPC) lawyer, Barrister Joseph Kolo killing him instantly.naijagists.com
Joseph Kolo, 40 was said to have parked his car beside the tree to avoid being cut off in the stormy wind on his way home from work.
He met his untimely death when the tree eventually fell on his car crushing him and the car instantly.
According to an eye witness, Halima Bawa said another tree which got uprooted during the rainstorm hit a residential building in the area resulting in serious traffic jam.
Joseph Kolo's death has increased the death toll caused by rainstorm and flood to 7 in the state.
The late Joseph Kolo's corpse has been deposited in Minna General Hospital morgue
May his soul rest in peace.