Crime News
Cynthia Osokogu's Facebook Killers Absent At Murder Trial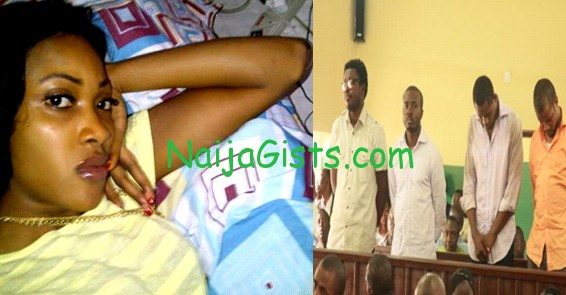 ct 3, 2012 – Cynthia Osokogu's Facebook Killers Absent At Murder Trial
The four suspects accused of the brutal murder of a Nigerian lady, Cynthia Osokogu after luring her on Facebook few weeks ago have refused to show up in court. naijagists.com
A  Lagos high court has ordered the Prison officials to produce the missing suspects.
This followed the absence of the suspects and the oral application made in court by the prosecution counsel. Four of the the defendants were remanded in prison custody when they were arraigned before the court on Monday, 27 August.
According to the prosecution, the charge against the seven suspects will be harmonised. The suspects were charged at various dates as the police continued the investigation on the murder.
On Monday 27 August, four suspects were arraigned before Magistrate Aka Bashorun of Yaba Magistrate's court in connection with the murder of Cynthia.
The suspects are Okwumo Echezona Nwabufor, 33, Ezike Ilechukwu Olisaeloka, 23, Orji Osita, 32, and Maduakor Chukwunonso, 25.
They were slammed with an eight-count charge of murder, armed robbery, administering the late Cynthia with obnoxious substance among others.
According to the charge, the suspects also had unlawful sexual intercourse with the victim without her consent.
Their plea was not taken. The court ordered that they should be remanded in prison custody and their file duplicated for DPP's advice.
The matter was adjourned till 3 October, 2012.
Cynthia Osokogu, the only daughter of retired Major Frank Osokogu, was a post graduate student and boutique owner based in Nassarawa State.
She met the undergraduates, who later murdered her, through social networking site Facebook.
The principal suspects, Ezike Ilechukwu Olisaeloka, 23, and Okwumo Echezona Nwabufo, 33, allegedly confessed to the police that they lured her to Lagos from her base in Nassarawa State under the pretext that they are also into clothing business.
After receiving her at the Murtala Muhammed airport in Lagos, they took her to Cosmilla Hotel in Festac Town.
Eloka said they later put a tablet in her Ribena drink and slept with her for about 12 hours.
After discovering that Cynthia did not have a lot of money on her as they earlier presumed, they raped her for 12 hours and later strangled her.
Following the arrest and subsequent parade of Olisaeloka and his cousin, Nwabufo, over the murder of Cynthia, three more ladies came forward, saying they were once victims of the alleged murderers.
The three women reportedly went to Festac Police Command to write a statement about how they were drugged, raped and robbed by the suspects now facing trial. (pmreports)