Crime News
How Yahoo Yahoo Boys Lured Cynthia Osokogu To Death In Lagos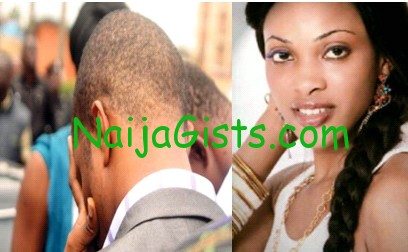 Sept 7, 2012 – How Yahoo Yahoo Boys Lured Cynthia To Death In Lagos
By now, we have all known the killers of 24 yr old Cynthia Valerie Osokogu, the daughter of Retired Major General Frank Osokogu who was murdered on the 22nd of July, 2012 in Festac, Lagos, Nigeria. naijagists.com
We gathered Cynthia Osokogu was a fashion minded lady who owns a boutique called Dress code collection in Nasarawa.
Her killers who are popular Yahoo Yahoo boys in Lagos admitted they drugged and beat Cynthia before she gave up the ghost in a Festac hotel.
Nwabuzo Okumo & Odera Ezekiel who have resolved to Yahoo Yahoo (internet fraud) business as a source of income claimed all they wanted to do is rob her and run away before getting cut.
Nwabuzo Okumo who is a 300 level Accounting Undergraduate student of UNILAG said he met Cynthia on BlackBerry messenger and they started chatting before inviting her to Lagos.
Here is his confession:
Shocking Confession of Nwabuzor Okumo, Cynthia Osokogu's Murder Mastermind
"We met through a group on BlackBerry Messenger. We had formed a kind of friendship online.
"When she told me that she was coming to Lagos to buy some goods for her boutique in Abuja, I invited her to Casmillo Hotel, Amuwo Odofin, where an incident led to her death. It was not planned that way. It was a big mistake.
"She arrived in Lagos from Abuja on Sunday, July 21 and I took her to the hotel. I gave her a pack of Ribena juice, which had been injected with a drug I use on women that makes them dizzy, weak and wipes their memory afterwards. I have used the drugs on four girls but it did not kill them.
"I stayed in the room with her for about 12 hours. We talked; I used a vibrator (sex toy) on her. I noticed that she did not drink all the juice and so the drug was not as effective as expected.
"I had no choice than to engage her in a struggle. I had to tie her so that she would not be able to follow me after robbing her."
Cynthia's murder accomplice, Odera Ezekiel,  a 400-level Accounting Undergraduate student at Anambra State University said Okumo called him to help him tie up Cynthia
According to him, Cynthia was struggling with them before they succeeded in chaining her.
To calm her down, the killers put 2 packs of drug into her Ribena Juice.
Here is his confession:
Confession Of Odera Ezekiel Cynthia Osokogu's Murder Accomplice
"I didn't know the victim. The morning it happened, he (Okumo), said I should come and help him bind the girl because he wanted to steal her belongings. In the process of binding her, she was struggling, so we had to beat her up and it was in the process that she passed out. We used our hands in beating her; we did not use any weapon.
"She was still breathing as at the time I left the hotel."
Police Narrates Cynthia Osokogu' Killers Arrest
Lagos State Commissioner of Police, Umar Manko, said the suspects specialise in luring young ladies and robbing them. He added that it was unclear if the boys killed their previous victims or not.
"The young lady was found dead and chained in a room in the hotel. Someone called the hotel reception and said, 'Go and get the dead body of a bastard from your room'. When the ladywas found, her identity could not be ascertained," he said.
It was learnt that a yellow card belonging to the victim was found in the hotel room. From the card, he said the police called immigration authorities and got the passport number and details of the victim.
Manko said, "Her identity was not known but from the telephone number used in calling the hotel, we started our investigations until we got her passport number through the Immigration Service and were able to establish her identity.
"Through CCTV footage, we discovered that two young men entered into her room. We were able to trace the suspects through the phone number that called the hotel."
Our correspondent learnt that the police initially arrested Ezekiel's girlfriend. She aided them in apprehending Ezekiel who had run to Anambra State.
It was learnt that Ezekiel then led the police to Okumo in FESTAC, Lagos.
Manko said, "The boys are cousins and both are from Anambra State. We've been told that this is not their first time but we've not been  able to establish if they always kill their victims. It's a very long investigation and it's still ongoing.(newsofthepeople)
We hope people especially ladies will learn a positive lesson from her sad ordeal.
May her soul rest in perfect peace!