Crime News
Drunk Nigerian Policemen Batter NAN Photo-Journalist, Mike Abaga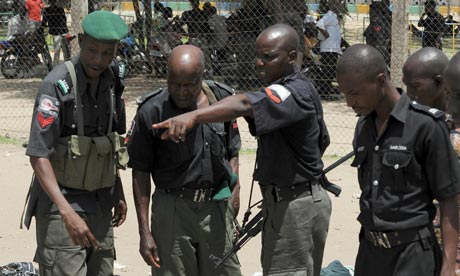 O
ct 28, 2012 – Drunk Nigerian Policemen Batter NAN Photo-Journalist, Mike Abaga
Mobile Policemen attached to the Enugu governor's wife, Mrs. Clara Chime, attacked a journalist working for News Agency of Nigeria (NAN), Mr. Mike Agada, on Fri evening.
We learnt the officers attacked Mike Agada at Amebota Village, Ukana, in Udi ,Enugu State on Friday.
The journalist was battered while performing his formal duty during a funeral ceremony in the presence of top government officials.
The Mopol attacked him, destroyed his camera while punching and kicking him.
We learnt a trigger-happy Corporal Joshua Ethoti, corked his gun and vowed to kill the journalist.
He was battered on suspicion that he snapped their picture while they're drinking.
According to Ebere Amaraizu, Enugu Police command spokesman, the matter had been reported to him.
"Yes, I received a call from an individual in NAN who claimed he was maltreated by mobile police officers attached to the Governor's wife. I told him to write a petition to the command as well as send a copy of the petition to the Chief Security Officer to the Governor and the Chief Press Secretary, since the policemen involved are attached to Government House. You know that we don't condone such things." – Ebere said