Entertainment News
Emmanuel Emenike VIP Wedding Guests Phones Stolen As Thief Bribes Bodyguard..Wife Iheoma Blasts Wedding Planner
Emmanuel Emenike VIP Wedding Guests Phones Stolen As Thief Bribes Bodyguard, Wife Iheoma Blasts Wedding Planner Nike Balogun Of Diamond Ink Events
A days after her wedding ceremony to popular footballer Emmanuel Emenike, former Most Beautiful Girl in Nigeria, Iheoma has called out her wedding planner for causing a big mess at the event.
Iheoma accused Diamond Ink Events founder Nike Balogun of being unprofessional, rude and arrogant throughout the planning process.
In a series of rants Iheoma posted on the social media this evening, she said VIP guests phones, champagnes and money were all stolen at the event.
She added that Nike Balogun allowed mint sellers into the event hallway even as an uninvited guest bribed the body guard to enter the VIP section of the elaborate wedding ceremony.
See screenshots of her rants below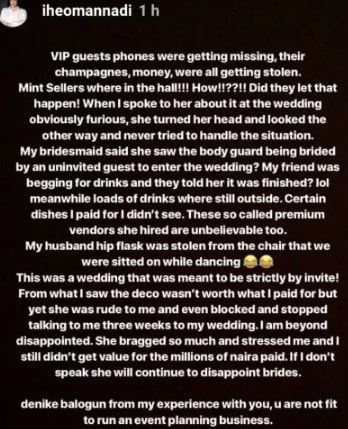 Iheoma and Emenike got married in Lekki Lagos on Saturday the 26th of May 2018. They are blessed with a daughter.