Hot Gists
Evangelist Iyabo Ogunsola Aka Efunsetan Aniwura: Isho Pepper Had 13 Wives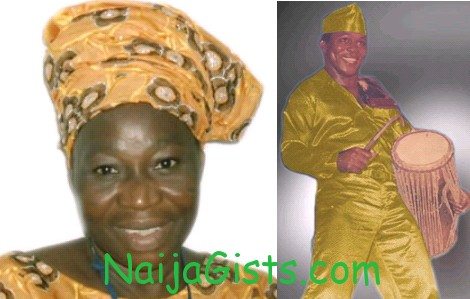 Dec 10, 2012 – Evangelist Iyabo Ogunsola Aka Efunsetan Aniwura: Isho Pepper Had 13 Wives
Years after the death of Ishola Ogunsola popularly called Isho Pepper, we haven't heard much about his life. naijagists.com
In this recent interview with Lawrence Amaku, one of his wives, Nigerian actress Efunsetan Aniwura turned Evangelist Iyabo Ogunsola spoke at length about her late hubby and what she has been up to lately.
Interview excerpt below
What is the essence of the remembrance programme for the late Isho Pepper?
We want everyone to know that it will be exactly 20 years, this year, that Isola Ogunsola, popularly known as Isho Pepper, died and we want to use the series of activities to immortalise him and his generation. We want everyone to know that though he is dead, we his family members have outlived him. So the programme, which will start on December 24, will last for five days.
What is the nature of the programme and how do you intend to go about it?
On December 24, we will have a rally around town; on Tuesday, we will go Abeokuta, his native town. One of the highlights of the occasion is a lecture to be delivered at the University of Ibadan (U.I), there will also be a theatre day at the Cultural Centre in Ibadan. Several ANTP theatre practitioners will be on ground. We will be staging Alaafin Aganju to be graced by the presence of the Alaafin himself as well as other traditional rulers in Yoruba land.
Will the offsprings of Isho Pepper be featured in the drama also?
Yes, of course, all his children, especially those of them that were part of the drama group then as kids.
How did your name come to feature prominently in the Isho Pepper theatre?
Well, I am actually the second of the I show Pepper's numerous wives. When you add the number of mistresses he had to his legal wives, we are 13 in number. I am the second wife; Baba's first wife, Iya Alakara, is dead. So, I presently occupy a frontal position.
Very little was heard about you and the Ishola Ogunsola's theatre company after his death. Why?
It is not as if the company went underground. After his death, we had a programme that aired on some local TV stations. We had a certain soap manufacturer as the sponsor then. But because of the harsh economic situation in the country and the rising cost of airtime on TV, he could not sustain it; so it was discontinued. However, he still continues to assist us in every way he can till date. He has even offered to assist us in the forthcoming programme.
Besides, I had received God's call to evangelism, even before Isho Pepper passed away. I was already in a bible school before his death. That was in 1978.
But at that time, your theatre productions and activities were steeped in fetishism and supernatural beliefs, so how did you marry the two?
It was mere drama. It doesn't mean that we were traditional worshippers or indulged in fetishism. I, for example, am a Christian; I was born into a Christian family. My father was an Anglican. I only had that God-given talent to play those roles.
What of the spiritual fortification that your cast members were said to undergo before each production?
In my group, there was nothing of that nature. We used to commit our productions to God by praying before starting. By the way, if you listen attentively to all the tracks composed for Isho Pepper's productions, they are songs rooted in Christian values. Unfortunately, at that time, he suffered a spiritual attack.
Where did the attack come from? Was it from his rivals in the industry?
Well, I can't really say where it came from. But what I know is that because of the fame that his theatre group enjoyed at that time, which made him a household name among the high and mighty in the society, many people became envious of him. He was struck with an illness that really incapacitated him. We took him to various hospitals for medical cure, because Isho Pepper believed strongly in Western medicine.
After all said and done, there was no solution. It was then that some people started saying that the sickness probably had a supernatural dimension and suggested we employ traditional means. So, because of our shallow faith in God then, we succumbed to pressure and took him to several herbalists and witch doctors who asked us to perform all manner of rituals just to get him healed.
As a key player in the theatre tradition, how do you feel about its extinction?
You see, we cried out to the high heavens then at the advent of film. The late Chief Hubert Ogunde appealed to the authorities concerned to guard against its encroachment on the theatre. We know how well we entertained people and how much we made then by showing our productions at theatres, especially during festive periods like Christmas, Easter, Ileya and other festivities. These were harvest times for us. But what you find, nowadays, are movies being sold for as low as N200 and flood everywhere thereby making them worthless. The argument of lovers and advocates of film against us was that the theatre does not capture elements like seas, forests and others but with films and the effect of computer, that is possible.
What have you been involved in lately?
I have been producing Christian films. One of them is Ologbon Meji.
But not much has been heard about your works for some time now?
Well, may be because it doesn't get much publicity like others. I market my works myself; I don't engage the services of marketers because I don't want anyone to rip me off. I go to different churches to market my works whenever I'm on ministration there, and I thank God that I get handsomely rewarded financially. By the way, I have left popular theatre completely. In fact, it came to a time — around 1993 — that my colleagues stopped inviting me to feature in their movies, may be they thought that I had veered off that line completely.
How have you coped, over the years, with life without Isho Pepper?
God has been the one helping us to shoulder our burden. His constant support has helped to fill the vacuum left in our lives by his demise. source