Entertainment News
Man Who Bought 2016 Range Rover For Pregnant Wife Protests Air Bags & Engine Oil Leak Problems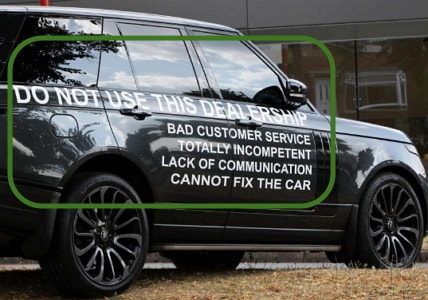 Expectant Dad Who Bought 2016 Range Rover For Pregnant Wife Protests Air Bags & Engine Oil Leak Problems
Check out how a furious soon to be dad registered his disappointment days after he purchased a £63,000 Range Rover from a car dealer in Birmingham UK.
The man who bought the black car as a gift for his pregnant wife said he was put on hold for 5.5 hours after he called to complain about air bags and engine oil leak problem he's having with the car within days of purchase.
He said despite buying out a 3-year warranty on the car, the company did nothing to fix the problem.
He registered his displeasure by packing the car outside a Land Rover show room in Erdington, Birmingham.
The protest has since caught the attention of passerby who posted their thoughts on the social media.